Google's doodles show oodles ... of men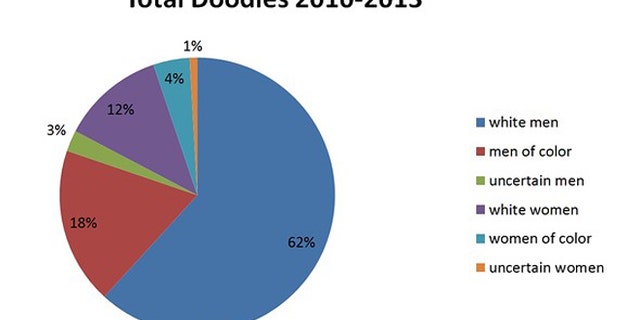 What do Mahatma Gandhi, Big Bird, Michael Jackson and existential Danish philosopher Søren Kierkegaard have in common?
All four are in the elite club of public figures who've been honored with a Google doodle, the quirky tributes that surround the Google search bar.
They're also all men. And in the midst of criticism of sexism in Silicon Valley, Google's idiosyncratic list of doodle honorees is coming under fire for overlooking women's contributions to world history.
[pullquote]
On Thursday morning, SPARK Movement, a girls' advocacy group, released a report that tallies the gender ratio in four years worth of data on Google doodles. Of the 445 doodles published on Google homepages worldwide between 2010 and 2013 that celebrated individuals, 82.5 percent featured men, and just 17.5 percent featured women, according to the analysis. (The data only include human historic figures, so fictional characters that have been honored with doodles, such as Wilma Flintstone and Pac-Man, weren't factored into the tally.) The report also counted women of color in doodles, and found they represented just 4 percent of doodles over the past four years.
"Google is the information center of the world, and it's presenting a skewed and imbalanced vision of who creates knowledge," says Dana Edell, executive director of SPARK Movement, an organization that fights negative representations of girls in the media. "It's telling girls and boys that the people who have made a contributions to our world are white men."
Google recognizes the problem, and says the company already is working to improve the doodle gender balance. "Women have historically been underrepresented in almost all fields: science, school curricula, business, politics — and, sadly, doodles," Ryan Germick, Google's Doodle Team Lead, said via e-mail.
Read more about Google's doodles at The Wall Street Journal.