Google Doodle celebrates Herman Melville and Moby Dick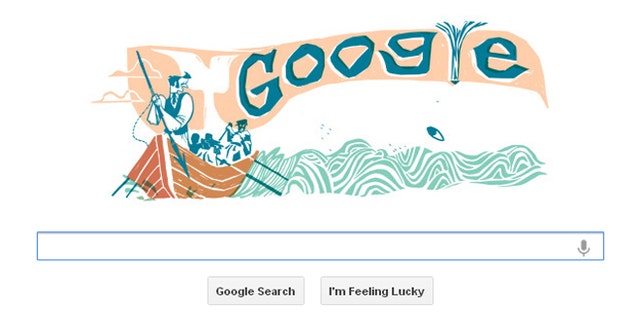 NEWYou can now listen to Fox News articles!
Herman Melville's great American classic Moby Dick is being honored by Google's latest Doodle.
With a white sperm whale looming in the background, the woodcut like tribute depicts a scene from the novel in which Captain Ahab commandeers a boat with harpoon in hand, ready to strike. The doodle coincides with the 161st anniversary of Melville's landmark novel.
Clicking on the Doodle takes users to a Google search of Herman Melville, who was born August 1, 1819 in New York and died on September 28, 1891 at the age of 72.
Although first released in London as a three volume edition on October 18, 1851, it was soon picked up by New York based publisher Harper and Brothers -- which consolidated it into a single novel named Moby Dick exactly one month later.
The book is about the sad story of Captain Ahab and his obsession with the whale that took his leg. A tale of revenge, the novel explores concepts of social class, morality and the existence of God and ultimately our purpose in the universe.
Though it was underappreciated in Melville's time, his masterpiece would eventually become a centerpiece in the Western canon, considered by many as one of the great American novels.
Though this edition of Google Doodle isn't as involved as others -- like the playable edition of Pac-Man -- others are picking up the slack, such as this video that animates the scene.