FTC, USDA, DoJ, other federal websites offline following partial gov't shutdown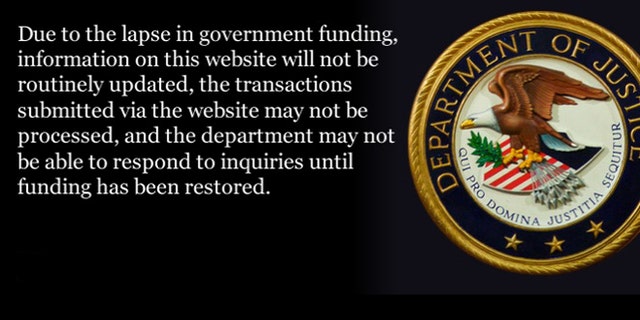 NEWYou can now listen to Fox News articles!
The websites of several major federal agencies were taken offline Tuesday after Congressional inaction forced a partial shutdown of the U.S. government.
"Due to the lapse in federal government funding, this website is not available," reads a message posted to the USDA's website, replacing all of the information usually available on the site. The website of the Department of Justice features a stark, black and white image stating that it would not be regularly updated, but the site itself remained largely intact.
Likewise, the NSA's website features a bold message that the site would not be updated. The Federal Trade Commission's website was completely taken offline, however.
"Unfortunately, the Federal Trade Commission is closed due to the government shutdown," reads a note on the site. "Consumers may file FOlA requests, but they will not be processed. Consumers cannot file complaints or register for Do Not Call. All public workshops, roundtables, hearings and conferences are postponed until further notice."
"We hope to be open soon."
The website for the Library of Congress was taken down following the battle of wills in Congress. But the Thomas server, where legislative information is posted, and beta.congress.gov will remain available, spokeswoman Gayle Osterberg told FoxNews.com.
The website for the National Zoo features several popular webcams of animals, including clouded leopards, octopuses, and pandas. All have been turned off.
The Zoo said the cams require federal funding to run.