Fish.net? Researchers test 'underwater Internet'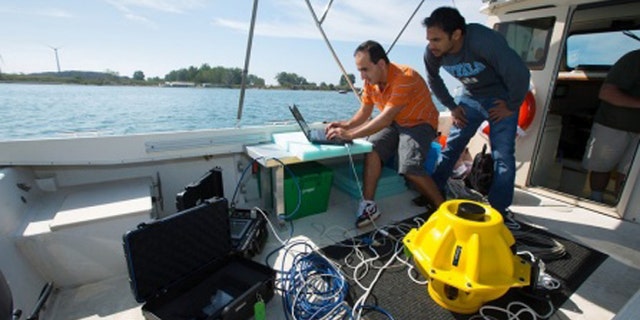 Sharks will soon be taking selfies and fish will be #swimming.
And the concept of "surfing" the Internet is about to get really strange.
Researchers from the University of Buffalo in New York are working on an underwater Wi-Fi system, a sort of deep sea Internet using sound waves rather than radio waves.
The team claims this technology could aid in tsunami detection, help offshore oil detection, aid pollution monitoring and more.
"A submerged wireless network will give us an unprecedented ability to collect and analyze data from our oceans in real time," said Tommaso Melodia, associate professor of electrical engineering at the University of Buffalo and the project's lead researcher. "Making this information available to anyone with a smartphone or computer, especially when a tsunami or other type of disaster occurs, could help save lives."
Melodia and his students will present a paper on the underwater Internet at the 8th annual International Conference on Underwater Networks & Systems in mid-November in Taiwan.
He tested the system recently in Lake Erie, a few miles south of downtown Buffalo. Hovannes Kulhandjian and Zahed Hossain, both doctoral candidates in his lab, dropped two 40-pound sensors into the water. Kulhandjian typed a command into a laptop. Seconds later, a series of high-pitched chirps ricocheted off a nearby concrete wall, an indication that the test worked.
A deep-sea Internet has many applications, the researchers argue, including linking together buoy networks that detect tsunamis to deliver a more reliable warning system. It may also help collect oceanographic data and monitoring pollution.
"We could even use it to monitor fish and marine mammals, and find out how to best protect them from shipping traffic and other dangers," Melodia said. "An Internet underwater has so many possibilities."