First Strike -- Lamebook Sues Facebook in Trademark Wars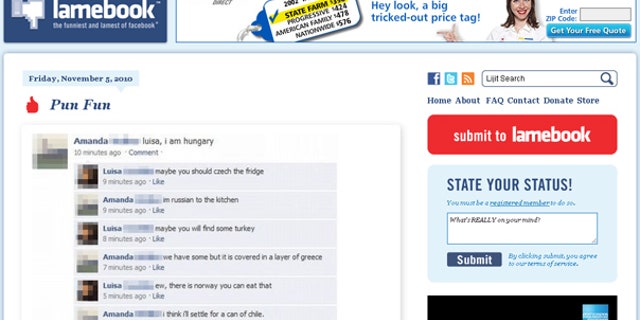 File this one under the fact-is-stranger-than-fiction department: Social-networking Goliath Facebook is being sued by parody site Lamebook -- over trademark infringement.
Lamebook lets users submit hilarious tidbits from Facebook, such as funny wall posts, embarrassing pictures and crazy comments. And according to a complaint the site's operators filed in court, Facebook threatened Lamebook with legal action over trademark infringement in March.
Lamebook -- whose logo, look, and feel have notable similarities to those of the social networking site -- was told to change its name and user interface. Instead of complying, Lamebook responded with a preemptive lawsuit of its own.
Facebook was not amused.
"We're disappointed that after months of working with Lamebook they have turned to litigation," a spokesman for Facebook told FoxNews.com. "We believe their website is an improper attempt to trade off of Facebook's popularity and fame and we will continue to protect our brand and trademark," he said.
Lamebook, co-founded in April of 2009 by Texan graphic designers Jonathan Standefer and Matthew Genitempo, doesn't see it in the same black-and-white terms. The founders argue that the site is protected under the First Amendment.
"Unlike the Facebook website, the Lamebook website does not offer social-networking services or functionality to its users and, therefore, does not compete with Facebook," the pair noted in their complaint.
"Instead, by compiling, selecting, and allowing public commentary on amusing Facebook website content, the Lamebook website serves as a humorous parody of the Facebook website and the role it plays in society."
Standefer did not respond to FoxNews.com requests for additional information.
But the Lamebook incident isn't all that surprising. It follows a spate of trademark-fueled litigation by Facebook in recent months. The company has sued Teachbook, Placebook, and the x-rated Faceporn in an effort to protect its identity following Facebook's astronomical rise in popularity in recent years.
Lamebook may face an uphill battle, however. Following Facebook's lawsuit, Placebook changed its name . . . to TripTrace.