Facebook moves to ramp up transparency on political ads
NEWYou can now listen to Fox News articles!
With the 2018 midterm elections heating up, Facebook unveiled new efforts Thursday to make its political advertisements more transparent. The move comes more than a year after reports that Russia used social media to meddle in the 2016 presidential election. These changes also come as tech companies continue to face increased regulation by lawmakers, who have introduced legislation for their own requirements for online political ads.
Starting Thursday, Facebook and Instagram users in the United States will be able to see who's running all election-related and issue ads, how much money was spent on it, how widely it was seen, and who the ad reached — for example age, gender and location. Political ads will be marked with a label at the top of the post indicating who paid for it. If users click on the label, they will be able to find an archive of all the political ads run by that sponsor or organization, along with the campaign budget associated with an individual ad. The archive begins with ads that ran in May.
"We believe that increased transparency will lead to increased accountability and responsibility over time — not just for Facebook, but advertisers as well," said Facebook Director of Ad Product Management Rob Leathern.
Advertisers wanting to run political ads in the United States will have to prove their identity and location before publishing posts. These new rules also will apply for ads that promote sensitive issues like gun control or immigration. Twitter revealed similar rules for its platform on Thursday, as well.
"Many of the Russian ads around the election focused on stirring passions on divisive issues," said Facebook Global Politics and Government Outreach Director Katie Harbath.
Facebook admitted to congressional investigators in September that it sold political ads to a Russian firm during the 2016 presidential election which lead to Facebook CEO Mark Zuckerberg having to testify before Congress.
The ad review process will look at both the text and the image of an ad. These advertisements will be reviewed by both computer-assisted technology and a Facebook employee. Facebook also will allow users to report any ad that might contain misleading political content. If any ad fails to obey Facebook's new political advertising policy, Facebook has the right to take the ad down, and that advertiser will be banned from running any future ads with political content until the authorization process is complete.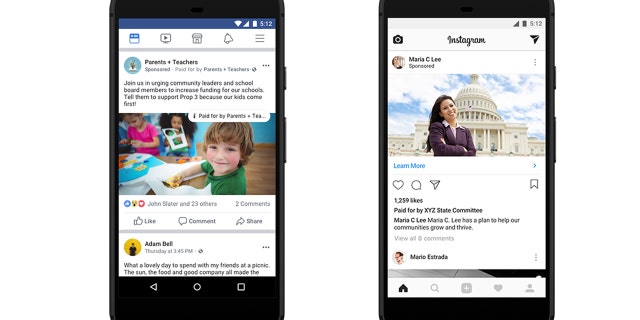 "We won't always get it right. We know we'll miss some ads and in other cases we'll identify some we shouldn't. We'll keep working on the process and improve as we go," said Harbath, and Facebook Director of Public Policy Steve Satterfield in a statement. "In the coming months we'll expand our ad transparency features to other countries and work with international partners to determine what issues to include for each country. We know that outside experts, researchers, and academics can also help by analyzing political advertising on Facebook."