EXCLUSIVE: iPads on College Campuses? Maybe Next Year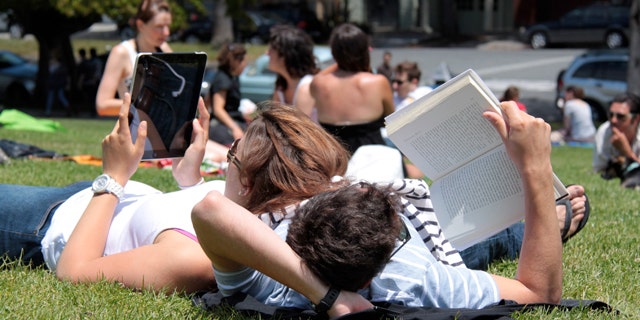 iPad? Nope, "iPlod" is the word on college campuses this year for Apple's magical new device.
In 2004, Duke University gave every incoming freshman a brand new iPod loaded with practical information: schedules, campus tours, and even the Duke fight song. This year, the school is taking a more cautious approach with the iPad -- and it's not the only one hesitant to adopt.
"Professors are generally enthusiastic about the devices for certain purposes, but they're still investigating their use in instruction," Stephen O'Donnell of Duke's Office of Informational Technology told FoxNews.com. Rather than simply giving freshmen an early Christmas gift, Duke's Center for Instructional Technology has a series of extensive loaner programs for faculty and students alike to tinker with the device.
At the iPad's January launch, Apple CEO Steve Jobs eagerly touted the iPad as a game-changer for education. "The iPad isn't just the best device of its kind -- it's a whole new kind of device," the Apple website says, explaining that the iPad is "poised to change the learning landscape."
Not so fast.
Sales of the gizmo may have soared to more than 3.2 million units so far, according to Apple, and analysts predict sales of 30 million by next year. But in education, it's a different story.
"Some initially hoped the devices would function as mini tablet computers -- and are disappointed that they don't," O'Donnell told FoxNews.com. For now, the school's pilot program remain in an early experimental phase, and feedback has been mixed.
Professor Satti Khanna at Duke teaches Advanced Hindi; he told FoxNews.com that the "very exploring of iPad use in the classroom makes a teacher rethink the goals of his or her class. The iPad makes me break away from text-dominated lectures to more media-sensitive teaching."
The tablet gets mixed reviews from students, according to Khanna. "[They] are pleased but less amazed than I am," he said, looking forward to updates in the next generation. "I would like it to include a recording microphone and camera."
Apple declined to comment for this article.
Several other schools have similar programs in place. The University of Maryland jumped on board shortly after the iPad was unveiled, for example. The school of over 26,000 undergraduates announced on April 26 that 75 students in the newly launched Digital Cultures and Creativity program would receive iPads this fall. Oklahoma State followed in July, announcing that 125 of its 22,875 students would join its pilot program and get free iPads.
The IT department at the University of South Florida has recently created an app for the iPhone and iPad that lets students search their class schedules, school events, and more. But there isn't a plan to integrate iPads in the classroom, said Kelli Morgan, a senior at the University of South Florida, who spoke with the manager of web services for the IT department.
Stanford University School of Medicine's aim to digitize its curriculum "as a way to lighten the load of textbook-toting students, and to learn how best to teach an extremely tech-savvy generation of students who've grown up in a wired world," according to the school's website, means the entire incoming class is equipped with 32GB Wi-Fi iPads. The challenging process has been somewhat hit or miss.
"It definitely facilitates studying and recall because you don't get bogged down by all the paper," noted first year medical student Ryan Flynn. But it's still a work in progress. "The iPad isn't the best input device. Some people have gone back to paper and pencil."
And where iPads aren't being freely handed out, students (and parents) haven't bought them yet.
"I know of one classmate that has one, but there's hasn't been a real big integration just yet," Morgan told FoxNews.com.
Despite the high-profile initiatives, most colleges don't have special iPad programs, and anecdotal evidence suggests that without a friendly free boost, the tablet is almost non-existent on many college campuses.
Kat Meduski, a senior at Barnard College in New York City, concurred. "I haven't seen a single one on campus, and I've been here for about three weeks. I see a lot of people with MacBook, Acer, and Dell laptops along with a few netbooks," said the college senior.
For her, the iPad's woes stem from an inherent image problem among her peer group. "I think the general consensus is that iPads are not functional and are elitist," Meduski asserted. "No teachers have mentioned iPads this year."
"I haven't seen any," agreed Nina Liu, an incoming freshman at New York University. "A friend saw a guy taking notes in Biology class but that's about it."
At George Fox University, this year's incoming freshman are given a choice: iPad or MacBook laptop. Only 10 percent chose the iPad. Among those, almost all noted it was because they already had a notebook computer. Matt Rushing, a senior at the University of Mississippi, was more bullish than most.
"I've seen a few more iPads around campus, but as of now, I think that laptops are holding their own. I have heard a lot of people saying that they would like to get one sometime -- but still, not a lot of people have yet."
"But you never know with Apple, the iPads could start going quickly," he added.
Even at Stanford, outside its medical program, iPads are -- at least at present -- still a rare sight. "I haven't seen one. But I have seen a Kindle," said Tess Dunlap, an incoming freshman at the school.
Despite the slow adoption, the potential for students is great. As an e-book reader, the iPad is widely expected to usher in an era of electronic textbooks. Note-taking apps like Evernote and Microsoft's OneNote could mean better, more efficient notes. And 10 hours of battery life won't hurt either.
Teachers win, too, as digital integration means homework, exams, and updates can all happen easily and seamlessly. Colleges seem to agree, with those pilot programs hinting at the new gizmo's promise.
Seton Hill University's ambitious "An iPad for Everyone" initiative is putting an iPad in the hands of every full-time student. "This new program provides students with the best in technology and collaborative learning tools, ensuring that Seton Hill students will be uniquely suited to whatever careers they choose," the school's website boasts.
And all 550 incoming freshman at the Illinois Institute of Technology will be greeted with a free iPad. Because freshmen will all have to take many of the same core requirements, iPad integration allows for a new degree of uniformity as everyone will be loaded up with the same e-books, apps, and other resources.
"We can ensure everyone has the same hardware and software, and it makes it easier to integrate into the curriculum," Evan Venie, associate director of media relations, told Ars Technica.