Could Israeli high-tech tackle Hamas' terror tunnels?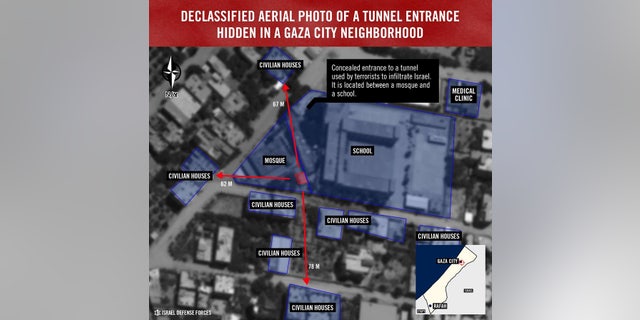 Israel's Iron Dome missile defense system has been highly visible protecting its airspace during Operation Protective Edge. But exactly how the military is locating Hamas' labyrinth of underground tunnels between Israel and Gaza – and whether it is using new technologies to uncover them – remains a closely held secret.
"Due to security concerns, we cannot specify the tools or methods used to uncover these tunnels. Exposing our capabilities would hamper our ability to address this lethal threat," an Israel Defense Forces (IDF) spokeswoman said in an email to FoxNews.com. "However, using precise intelligence combined with specialized units which use robots and advanced cameras, the IDF has had vast success in toppling the Hamas tunnel network."
The scale and sophistication of the Hamas tunnels present a massive challenge to the IDF, which launched Operation Protective Edge on July 8 in response to an escalation in rocket attacks by Hamas. The ground phase began on July 17.
The tunnel network has been likened to a subway system. Often built with concrete blocks, the tunnels, which are used to transport Hamas fighters, for smuggling and for storing weapons, extend more than 60 feet below ground, according to news reports. A declassified aerial image provided to FoxNews.com by the IDF shows a concealed entrance to a tunnel located between a mosque and a school in a Gaza neighborhood.
As Israel continues its destruction of the tunnels, there has been considerable speculation in the Israeli media about what technologies it may be using to locate them, and about what improved detection systems may be on the horizon.
On Wednesday, the Israeli newspaper Haaretz reported that a number of systems are at various stages of development and testing, including an estimated $59 million sensor-based system developed by graduates of the IDF's elite Talpiot technology program.
It isn't clear, though, whether testing has been completed on the project, according to Haaretz, which said that tunnels are typically detected by listening for sounds of digging.
Israeli science and technology experts are touting a number of other techniques for locating the tunnels, as well. Assaf Klar and Raphael Linker, associate professors at Israel's prestigious Technion science and technology university, told FoxNews.com they have been working for eight years to develop a fiber optic-based detection system.
In an email, Klar explained that the system uses a fiber optic cable, buried at shallow depth, that is connected to an optical analyzer. The fiber optics can sense displacements of soil, and advanced signal processing can be used to identify and pinpoint tunnels.
"The system is capable of analyzing, continuously, [using] tens of kilometers of conventional telecommunication optical fiber," wrote Klar, noting that the fiber costs just a few dollars per meter.
Klar and Linker's system uses a technique called Brillouin scattering, whereby a pulse of light is used to identify areas where the fiber optic cable is under strain. "The tunneling-induced soil movements affect this strain profile, and hence can be evaluated," Klar wrote.
The security company Magna BSP says that it, too, has a technology can tackle the tunnels. In an interview with the Israeli business news website Globes on Monday, Magna BSP CEO Haim Siboni said the firm's above-ground radar detection technology, which is already used on the border between Israel and Egypt, could be used to locate tunnels.
"We're proposing an operative engineering solution that consists of digging a 70-km tunnel along the border. When it's completed, our underground radar can be installed fairly easily. The estimated cost of the sensors is $150,000 per kilometer," Siboni told Globes.
The Israeli defense company Elbit Systems, which is also reportedly involved in the development of tunnel-detection technology, declined to comment.
Regardless of exactly how they're locating the tunnels, the Israeli military is claiming success.
"Since the beginning of the ground phase of Operation Protective Edge, the IDF has uncovered over 31 terror tunnels as part of a vast and complex tunnel network planned by Hamas over the years," the IDF spokeswoman said. "It is evident that Gaza is constructed upon a fully developed underground terror city which the IDF is at the peak of its unveiling and decommissioning."
Early Thursday, the IDF tweeted that the tunnels had over 60 access points across Gaza.
Follow James Rogers on Twitter @jamesjrogers