Cool Site of the Day: Should You Do It Yourself?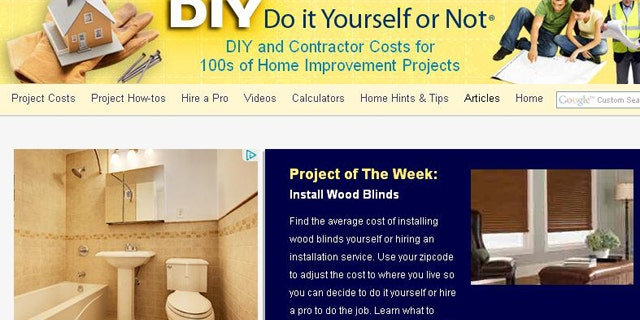 Is do-it-yourself really less expensive?
If you own a house, there's a good chance it needs some work. There are always little maintenance projects to do. You also might be thinking about a major makeover or renovation.
Unfortunately, any project is going to cost some money. If you're on a tight budget, it's a concern. You're always tempted to save a few bucks by doing the job yourself.
In some cases, it is probably a great idea. But there are times when hiring professionals is the way to go. It could even save you more in the long run. How can you tell which route is best?
DIY or Not can give you a clue. It has a sizeable database of common household projects and how much they cost to complete on average. The site also tells you how long the job should take you, the estimated cost of materials and the basic steps.
You can then compare that to estimates from a professional. It may turn out that the cost difference is a good investment, given the time saved and difficulty of the job.
If you do want to tackle a project yourself, the site also has an extensive How To section. You'll also find project-specific planning calculators. The site even suggests the best times of year to tackle specific household projects.
Kim Komando hosts the nation's largest talk radio show about consumer electronics, computers and the Internet. Get the podcast or find the station nearest you at www.komando.com/listen. Subscribe to Kim's free e-mail newsletters at www.komando.com/newsletters. Copyright 1995-2011, WestStar TalkRadio Network. All rights reserved.