CES: TV takes a back seat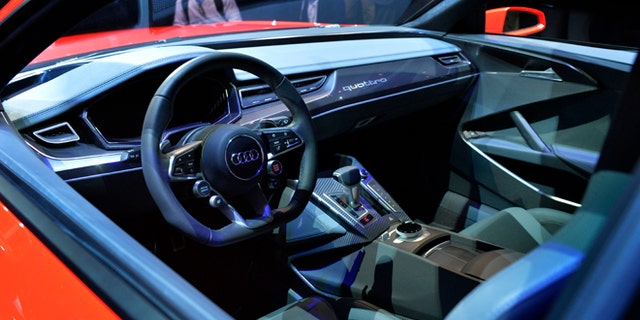 NEWYou can now listen to Fox News articles!
The next tech revolution will not be televised. It will be driven.
I've been hearing the "revolution" and "innovation" drumbeat for so many years at consumer electronics shows, my ears are ringing. But the International CES show in Las Vegas this week is bearing witness to what will be the most radical change yet, upending the automobile business, changing how we travel, and, ultimately, saving lives.
It's all thanks to a confluence of technologies that started with connected cars and safety technologies like electronic stability control and will lead to vehicles that "see" miles ahead and talk to each other to prevent collisions. And, yes, the self-driving or autonomous car is in the future, although a significant number of such vehicles probably won't be on the road until 2030, according to a recent research report, because most of us are on a budget are holding onto our old cars for more than 11 years or more.
The transition to the new world of zero fatalities—a goal automakers now reference with some confidence—will involve some bumps along the road, but the route there is taking shape by the looks of technology being touted at CES.
Click here for full CES 2014 coverage.
Ford, which has been at the forefront of adding new connected services to its vehicles, is going to start allowing outside developers to access such onboard information as the car's speed and location data to use in new apps. The automaker foresees a future where such information could be used to warn you of an accident around a corner or sudden dangerous weather conditions ahead. The company will also be showcasing its experimental vehicle-to-vehicle (V2V) communications system, which prevents even driverless cars from hitting each other (at least, that's the idea).
Indeed, a record number of automakers are exhibiting at the show, including Audi, BMW, Chrysler, Ford, General Motors, Kia, Mazda, Mercedes, and Toyota, focusing on technologies such as driver drowsiness detection, collision prevention, and a raft of new entertainment and information services. That's why even music companies are feeling the pull of the car of the future, with broadcasters like Clear Channel getting their music apps in cars while others like Gracenote are creating new ways for companies to create their own streaming music services.
Even veteran consumer electronics companies hailing from the days of VCRs and transistor radios are now touting their automotive muscle. Panasonic, a leading supplier of infotainment systems in cars (what used to be just radios) and is continuing to expand into car camera systems to prevent backover and lane departure accidents. It's also introducing a line of improved head up displays (HUD)--the sort used by fighter pilots--to allow drivers to keep their eyes on the road and reduce distraction. And the company touted its contract to supply 2 billion lithium ion batteries over the next four years to electric car renegade Tesla.
Furthermore, the connected data collected by automakers, wireless carriers, Google, Apple, and app developers can make for more eco friendly and fuel efficient future drivers (and privacy battles to come). Cars and apps can monitor driving behavior and recommend ways to improve mileage. (Perhaps a more gentle start from stop lights would be in order, sir.) And traffic and transportation data can be used to suggest more efficient routes. Inrix, which focuses on such traffic data, is now launching a so-called intermodal feature on new BMW i3 and i8 electric cars that will direct car owners to leave their vehicles and take the train or bus when conditions dictate. It's a car system that will tell you when not to drive.
Currently, cars are still a mess in terms of in-dash interfaces and controls. Smart phones connect to different vehicles in different ways, presenting drivers with a confusing array of choices on LCD displays. But work is continuing on standards—despite efforts by Apple to impose its icons on cars--to reduce distractions and make it easier for smart phone apps to work with cars. Livio, which is now owned by Ford, is touting an open SmartDeviceLink that all app developers and automakers could use. And the company is also showing an experimental Livio Connect radio that can perform handy functions like automatically raise the temperature on a Nest thermostat when your car realizes you're on your way home; a welcome feature for those living through the Polar Vortex.
Taking things a step further, auto industry firms are keeping an eye on devices like Google Glass. Harman, for example, makes in-dash systems and is researching the idea of using the geeky goggles as an ersatz head up display in which drivers could see turn and speed information without looking down at the dashboard. Hyundai is also toying with the idea of putting information relayed from the goggles into the car.
As simultaneously wacky and mundane as much of this may seem, some technologies hope to put excitement back into driving. Even in the autonomous car future, many of us will want to take the wheel and push the limits of road handling and acceleration. For those people, GM is showing a built-in system for the 2015 Corvette that uses the sports car's onboard camera to record exhilarating drives (on closed, controlled tracks, of course), which can then be shared online. It's certainly a far cry from posting what you had for breakfast on Facebook. And it shows that for several years to come, at least, cars will still be cars.
Follow John R. Quain on Twitter @jqontech or find more tech coverage at J-Q.com.