Bomb-Resistant Boxers to Be Manufactured by New York Company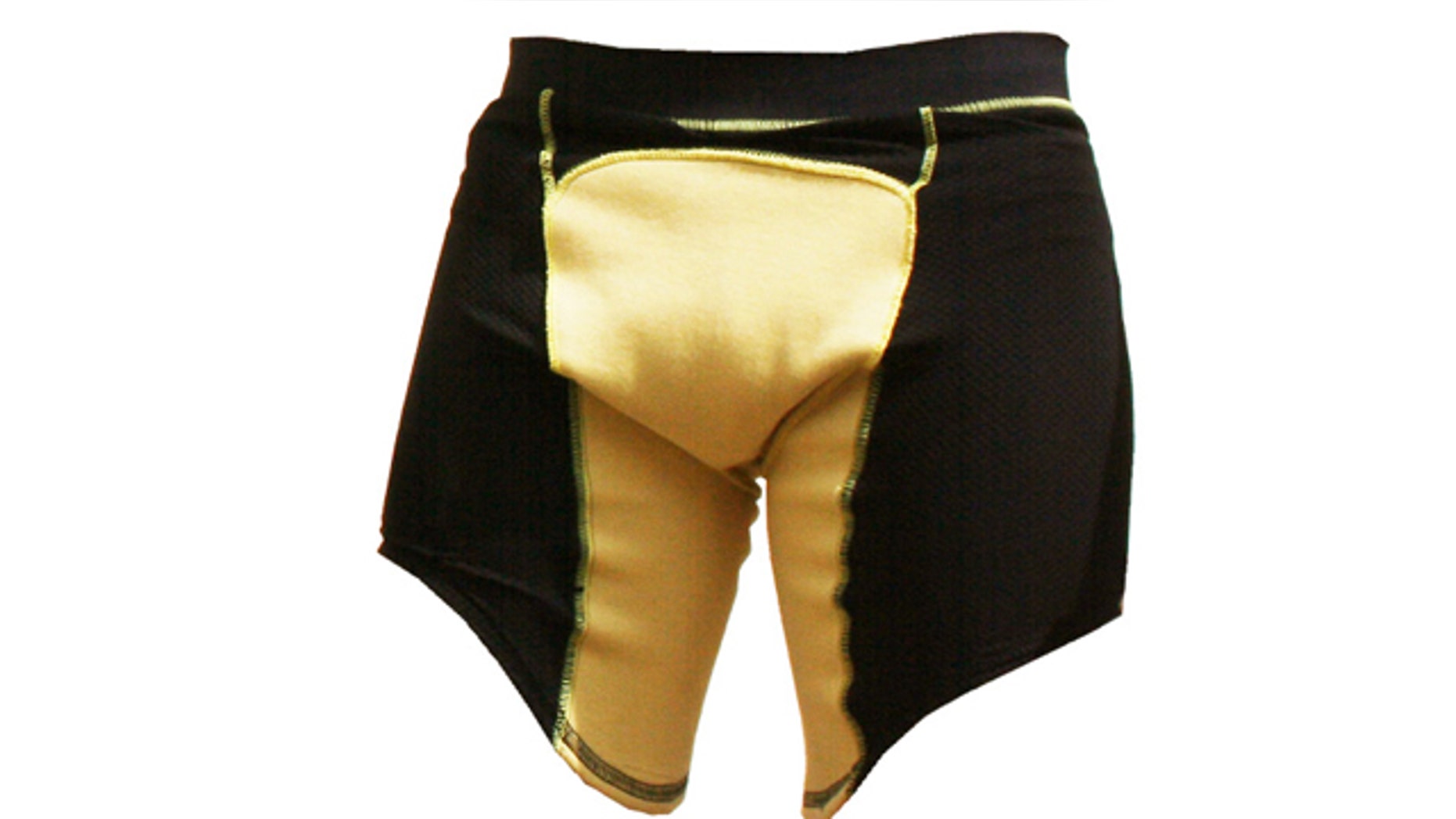 EXCLUSIVE: Brace yourself: Blast Boxers are coming to America.
Designed to protect against improvised explosive devices, Blast Boxers have been available in Europe for about six months by British manufacturer BCB International Ltd. But now the protective shorts made of Kevlar fabric that purportedly protect soldiers in areas where standard body armor does not will be manufactured in upstate New York within three weeks.
"We are creating a product here for the U.S. military; everything will be made and manufactured in the United States," BCB's Edward Schmitt told FoxNews.com Wednesday. "We're hoping to have them available by the middle of March."
Schmitt said the washable undergarments -- which weigh 6.8 ounces and will cost roughly $95 retail -- are currently being evaluated by military units worldwide, including the U.S. Marine Corps and the U.S. Army. The product is compliant with standards issued by U.S. military officials for usage in combat zones, he said.
"What we're trying to do is to provide a meaningful level of protection in a new threat environment," Schmitt said. "We're trying to protect the femoral artery."
Injuries to the femoral artery, which is located in the thigh and is divided into three parts, can be fatal without immediate medical attention due to rapid blood loss. Other common injuries from makeshift explosives typically found in Iraq and Afghanistan include a ruptured colon or loss of genitalia.
"Our big hope is to keep American service personnel safe from the threats they face overseas right now," Schmitt said. "If it becomes standard issue, we're going to see a lot of people being employed in upstate New York."
David Accetta, a spokesman for the U.S. Army's Natick Soldier Research, Development and Engineering Center (NSRDEC), told FoxNews.com that military officials are in the preliminary stages of evaluating the product and similar concepts.
"We are looking at whether a garment such as this with a very low level of protection may prove to have real benefits for our troops," Accetta wrote in an e-mail. "The characterization as 'bombproof' is not accurate and is misleading. Currently there is no existing technology that would provide practical protection and prevent the kinds of serious injuries that can occur during an IED or land mine blast."
Seneca Cayuga Industries in Seneca Falls, N.Y., has been contracted by BCB to manufacture the undergarments to comply with current U.S. military regulations. The company's textile operation, which employs roughly 50 people, including some disabled U.S. veterans, will handle the order.
"It's an interesting product," said Neil Gold, Seneca's government contractor manager. "We're happy to be the domestic manufacturer."
The company is still awaiting some final materials to produce the undergarments and hopes to begin production within weeks. Seneca Cayuga is a longtime governmental contractor, having produced more than 5 million wool caps for the U.S. Navy and a microfleece version for the U.S. Army, Gold said.
The owner of H.L. Dalis, a Long Island City, N.Y., wholesale distributor, told FoxNews.com he's been getting multiple inquiries per day for Blast Boxers, primarily from relatives of U.S. soldiers.
"We're fielding about four or five calls a day, sometimes six," Jon Blumenfeld told FoxNews.com. "The product is very unique and has a lot of potential. But we need to get the supply first and the word out."
Blumenfeld said he's hopeful to begin filling a massive amount of backorders by next month.
"It's already on some of the Internet sites for service member's families," he said. "That's where the word of mouth is spreading."