BofA Scrambling Amid WikiLeaks Threat, Report Says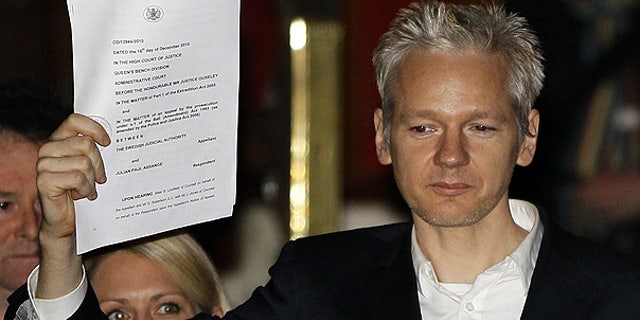 NEWYou can now listen to Fox News articles!
PHILADELPHIA – A team of up to 20 Bank of America officials, led by the chief risk officer, Bruce Thompson, have been reviewing thousands of documents amid a threat that it may be a target of WikiLeaks, The New York Times reported on Sunday.
The director of WikiLeaks, Julian Assange, previously said he had intended to "take down" a major U.S. bank and reveal an "ecosystem of corruption" from data from an executive's computer.
Bank of America has been reviewing cases in which any computers were lost and was looking for signs that its systems might have been compromised, the newspaper reported in its electronic edition.
The bank has hired consulting firm Booz Allen Hamilton to help manage the review and has sought advice from several top law firms, the report said.
Bank of America's internal review has turned up no evidence to support Assange's claim that he has a hard drive, the newspaper reported.
In December, Bank of America said it would not process payments intended for WikiLeaks, which has angered U.S. authorities with the mass release of U.S. diplomatic cables.
Bank of America joined a growing group of financial services companies, including MasterCard, PayPal and Visa Europe, that are restricting payments to the global organization that has said its next large document release will be bank information.
WikiLeaks has said it will release documents early this year that will point to "unethical practices" at a major U.S. bank, widely thought to be Bank of America.
Bank of America was not immediately available for comment.