Barnes & Noble Unveils Color Nook E-Reader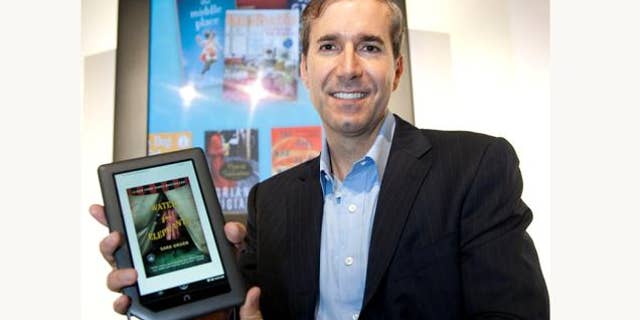 Barnes & Noble is introducing a new Nook e-reader with a color touch screen for $249 as competition among e-reader makers heats up ahead of the holidays.
The Nookcolor can be used for reading digital books, magazines, newspapers and children's books. It ups the competition for e-readers by including functions common to more expensive tablet computers such as Apple's iPad with features such as games, music, Web browsing and its own application store. It runs on Google's Android operating system.
Barnes & Noble, which announced the product Tuesday, said it will begin taking orders at its stores on Wednesday and begin shipping in mid-November.
E-readers are expected to be popular holiday gifts. Competition has exploded over the past year with new models and price cuts for Amazon.com's Kindle and offerings from Kobo, Sony and others all competing against tablet computers such as the iPad.
When Barnes & Noble introduced its Nook e-reader last year, its primary competition was Amazon.com's dominant Kindle, which retails for $139-189. The Nookcolor is $50 more than the most expensive Nook currently on the market.
There are now many e-readers available from Sony, Kobo and others, in addition to the popular iPad. E-readers are expected to be popular gifts this holiday season, so makers are amping up competition.
The current Nook offers color on the bottom half of its dual screen display, but not in the screen where the book is displayed. No other e-readers available on the U.S. market currently offer color displays.
Barnes & Noble also plans to launch a digital collection of more than 12,000 kids books, including picture books, for the Nook.
The low price is enticing because it undercuts the iPad's $499 starting price so much, said Simba Information's Michael Norris.
"What they want to avoid doing is creating product that will make consumers think, 'I'll just spend 'X' much more and get an iPad," he said.
E-reader makers have amped up competition with price cuts and other deals.
On Monday Borders, which offers several e-readers online and in stores, launched some limited offers through Sunday. Shoppers can save $30 on some of its readers and get free shipping with online orders of the devices. It is also offering a $25 gift card with a Velocity Micro Cruz tablet purchase, free eBooks with a Kobo preorder and 20 percent off eReader accessories.
Also last week, Amazon said it would offer a lending capability for e-books starting later this year, similar to the service that Barnes & Noble's Nook offers. Amazon has been expanding distribution for the Kindle, which is now available at Best Buy and Target and Walmart along with Amazon.com. The Nook is also available at Best Buy and Walmart, along with Barnes & Noble stores.
The electronic book sector is small but rapidly expanding, and traditional booksellers like Barnes & Noble and Borders are pinning their future success on the sector. Research firm The Yankee Group has forecast 6 million e-book readers will be sold in 2010, and expects the market to grow to $2.5 billion by 2013.
Shares of Barnes & Noble fell 19 cents to close at $14.98 but were unchanged in after-hours trading Tuesday.