Barnes & Noble Aims New E-Books at Kids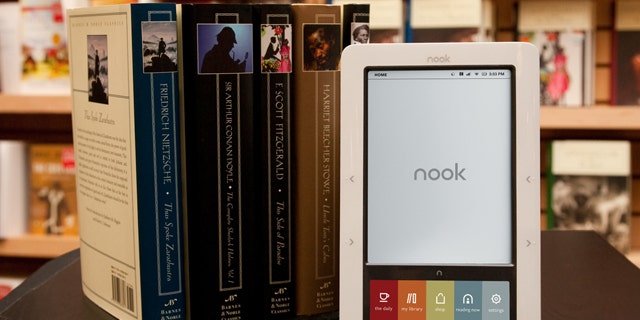 Barnes & Noble is intent on winning over a new generation of readers, including some who haven't yet learned to tie their shoes, through a digital collection of more than 12,000 books under the name Nook Kids.
The works, aimed at children 3 to 8 years old, include picture books, novels and a selection of enhanced editions of classics, such as "Jamberry," the tale of a boy and a bear who have a good time together finding berries.
An estimated 12,000 chapter books, among the largest digital collections for young readers, is expected to be available at NookKids.com by late Sunday. In addition, 100 or so picture books will be available in mid-November, while about 30 enhanced picture books will be available by the end of the year, or early in 2011. The collection, also available online at BarnesandNoble.com, will be accessible by year end via a Nook Kids app for Apple's iPad and other devices.
Nook Kids represents a crucial effort by the nation's largest bookstore chain to establish itself with children and their parents as a digital e-book leader. Barnes & Noble is in the process of reinventing itself as a technology company, and has earmarked an estimated $140 million for new digital efforts through April 30, 2011.
At the core of those efforts is the Nook, the bookseller's electronic reader, which competes with such devices as Amazon.com's Kindle and the iPad. The Nook has a black-and-white e-paper display, which doesn't capture the visual appeal of traditional picture books.
On Tuesday the company is hosting an event at which many industry watchers expect it to unveil a new Nook featuring color and interactivity.
A spokeswoman for Barnes & Noble declined to comment.
For more on this story, see the Wall Street Journal.