Barack Obama and Bill Clinton crack jokes on Twitter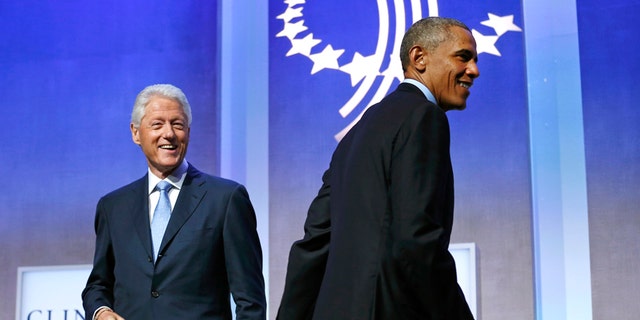 What's a President gotta do to get his own Twitter account? Apparently successfully win election to the office twice and serve six full years. President Obama was finally able to get himself his very own Twitter account, @POTUS, since his previous @BarackObama account now belongs to the Organizing for Action staff.
However, there's a little catch: the name "POTUS" is an acronym for "President of the United States." Barack Obama will no longer be present come 2016 (regardless what your crazy uncle and his conspiracy theories suggest) and the POTUS title will belong to someone else. Former President Bill Clinton has an idea as to who might like to have that username once Obama is done with it.
That's right, that is a former president whose wife is running for president asking the current president if his Twitter handle will be available, followed by the current president joking back to said former president that his wife's hand @FLOTUS (First Lady of the United States) will be available should the former president's wife win her bid for president. Whew. The Internet is a weird place.
Now that President Obama has his own Twitter account that he(supposedly) gets to run, we have the chance to see these little moments happen more often.
Who knows what @POTUS will get up to next. Talking smack to Republican presidential hopefuls? Trolling foreign leaders while negotiating treaties and trade agreements? Live-tweeting his favorite TV shows and sporting events? He's already amassed millions of followers so basically anything he chooses to do can trend immediately.
There's just one thing it appears President Obama won't do from his @POTUS handle: Retweet John Kerry.
The poor Secretary of State is still waiting for your acknowledgement, Mr. President. Stop throwing shade.