As America votes, America also wonders, 'who's running'?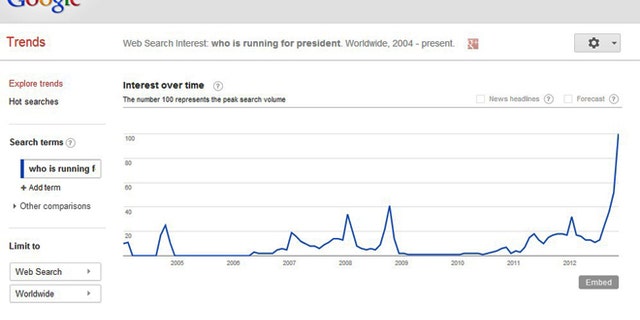 They're not undecided -- they're completely uninformed.
A chart on the Google Trends website shows the skyrocketing popularity of a search for the term, "who is running for president" -- as if it were possible to miss the omnipresent radio, TV and Web ads for Governor Mitt Romney and President Barack Obama.
Google's Trends site show popular Internet searches and hot trends; it was dominated on Election Day by political terms, from obvious ones like "what time do polls open" and "where do I vote" to the more basic terms like "election" and "polls."
But who's running for president?
If you're searching for results from tonight's election, look no further than FoxNews.com's 2012 Presidential Election Command Center.
If you don't know who's running at this point ...