Angry Birds Space to splash down Thursday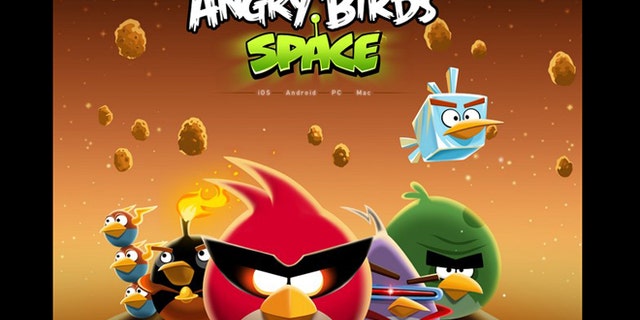 It'll be quite a splashdown.
Millions of people will be nursing sore fingers Thursday when the latest edition of the hit game for mobile devices, "Angry Birds Space," is launched.
The game's debut is part of a massive multimedia assault, with toys, books, candy and even a short cartoon debuting on Nickelodeon the same day.
With theme-park rides and even "Angry Birds" playgrounds in the works, "We're looking at this as the launching of an entire entertainment franchise," said Andrew Stalbow, the general manager of gamemaker Rovio's North American arm.
He said the Helsinki-based company's approach — oodles of products based on popular animated characters — is an attempt to mimic the success of Disney.
"They are definitely an inspiration," he said.
As with the original "Angry Birds'' game — which has sold more than 700 million copies since 2010 — players try to control the trajectory of a family of angry birds bent on killing a group of evil pigs who have stolen the birds' precious eggs.
Using a slingshot controlled by a playing device's touch screen, participants launch the birds at pigs stationed on or within various structures, hoping to collapse the structures and crush all the pigs on the playing field.
As players advance through the game, new birds appear, some with special abilities that can be activated by the player.
In the new version, the action is set in orbit near heavenly bodies that have varying degrees of gravity to affect the birds' flight path.
"It's a whole new take on game play," Stalbow said.
"Players will have to deal with different kinds of gravity, and it takes the game to a whole new level."
He declined to say how much the new app will cost, but the original version sells for less than a dollar.
To perfect the physics behind the micro-gravity effects, programmers turned to real NASA scientists for help.
The collaboration was so successful that NASA has even joined in to help promote the game.
The agency filmed a YouTube video in which astronaut Don Pettit sets up a slingshot in the International Space Station and hurtles a stuffed Angry Bird toy at different angles while he explains how zero-gravity can affect the path of an object.
"Don't ask how I got eggs on the space station," he jokes as two hard-boiled eggs he uses as props hover weightlessly in front of his face.
But it doesn't take a rocket scientist to figure out how feverish the demand for the new game will be.
Last year, it took less than a week for Rovio to sell more than 200 million copies of an edition of "Angry Birds" that was tied into the animated movie "Rio."
"We believe we will beat that this time around," Stalbow said.