World Cup Favorites Brazil Routs Honduras 5-0 In Friendly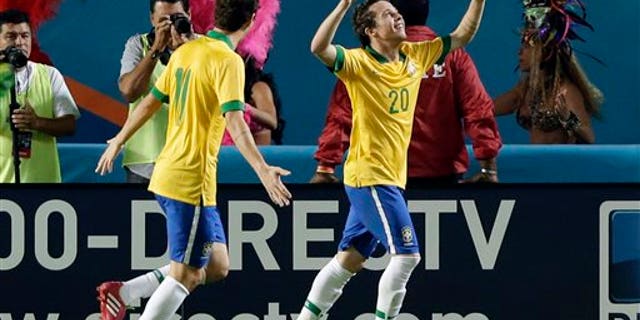 MIAMI GARDENS, Fla. (AP) – In one brief spurt, Brazil turned a close game into a rout and proved again it will be a strong World Cup favorite.
Maicon, Willian and Hulk scored in a seven-minute span to lead Brazil to a 5-0 victory in front of a crowd of 71,124 at Sun Life Stadium. The attendance was the highest for a soccer match in the Miami Dolphins' stadium.
After a tight first half, Brazil broke the game open with four second-half goals.
"In the first half, it was a very competitive match," Brazil coach Luiz Felipe Scolari said. "We were fortunate to capitalize on our second half opportunities."
Maicon's goal in the 65th minute gave Brazil a 3-0 lead. Honduras goalkeeper Noel Valladares deflected Paulinho's header from the left post area and an unmarked Maicon retrieved the deflection near the far post and tapped it into the net.
William scored in the 70th. William received Hulk's pass and beat Valladares with a shot from 15 yards.
Hulk followed up his assist with Brazil's fifth goal three minutes later. Robinho's heel pass found Hulk, who converted on a shot that landed inside the left post.
"I did not expect this type of result," Scolari said. "I have too much respect for Honduras. They have a very good team. We have a young team and this provides another opportunity in our preparation for the World Cup."
Brazil opened the scoring with Bernard's goal in the 22nd minute. Paulinho's cross from the right wing found an open Bernard just outside the 6-yard box, where his blast landed under the crossbar.
In the 36th minute, Neymar broke free down the left wing for a shot deep in the goal area. Noel Valladares deflected Neymar's attempt from 12 yards.
Honduran defenders targeted Neymar closely and the Barcelona striker ended on the ground repeatedly throughout the match. As a result of the constant pressure, Neymar drew three yellow cards and eight fouls.
"I am not going to discuss the emphasis on Neymar," Honduras coach Luis Fernando Suarez said. "Obviously, he is a player that generates tremendous attention. But my focus is our team and moving forward."
Jerry Bengston had Honduras' best scoring threat of the first half when his header inside the 6-yard box sailed above the crossbar.
Dante made it 2-0 in the 55th minute. Neymar sent a free kick from the left wing toward the 6-yard area, where Dante's header rolled under the legs of Honduras' Carlos Costly and into the net.
"The positive I take from this game is we played a very good first half," Suarez said. "Our play decreased dramatically in the second half while Brazil raised its game to another level."
On Tuesday night, Brazil will play Chile in Toronto, and Honduras will face Ecuador in Houston.
Follow us on twitter.com/foxnewslatino
Like us at facebook.com/foxnewslatino