Women's Soccer Olympics Roundup: Wambach Gets Even, Cristiane Extends Record, and More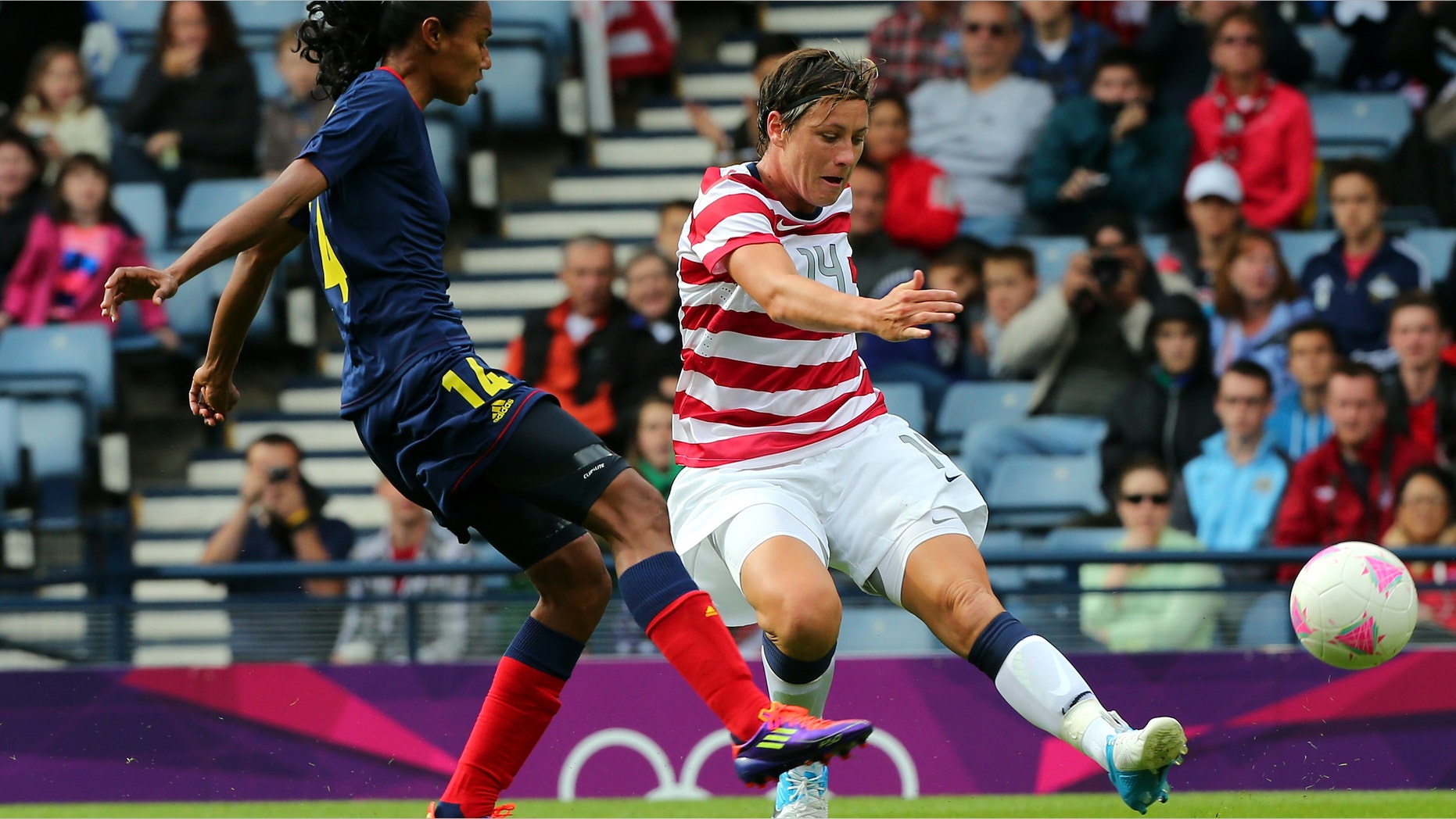 GLASGOW – U.S. striker Abby Wambach did not get mad, she got even against Colombia in Olympic women's soccer on Saturday night.
After she was sucker punched by forward Lady Andrade in the first half, Wambach exacted the perfect revenge with the second goal of the Americans' 3-0 triumph over Colombia at Hampden Park.
The result lifted the U.S. (2-0-0, six points) into the quarterfinals, while the South Americans fell to 0-2-0 and no points.
"I've never been sucker punched in my life, let alone in a soccer match," Wambach said. "So, I'm not very pleased with the fact that actually happened in an Olympic event.
"It was tactics of theirs to slow the game down, do whatever they can to try to get us off their game. FIFA and the Olympic Committee should look at the film and see what really happened. I'm glad that a black eye is the only thing that really came out of that game in terms of an injury."
The incident occurred six minutes after the Americans had taken a 1-0 lead on Megan Rapinoe's 20-yard shot in the 33rd minute.
While running, the 5-11 Wambach was cold-cocked by the 5-6 Andrade. It seemed everyone in the stadium saw the incident but referee Thalia Mitsi (Greece) and her crew.
"It's interesting because you think about what you would do on the street if somebody would sucker punch you," Wambach said. "You would have all of the lists of things you would probably do to retaliate. But this is the Olympics. I can't risk getting a red card, can't risk getting a yellow card. We like to call it ice. Stay ice cold. They're trying to get me to retaliate. I'm proud of myself for not doing that.
Andrade claimed she was innocent.
"Nothing happened," she said. "It was just a normal part of the game. We were both running. She ran across me and we collided. I had my hands in the air. It was an accident."
Rapinoe, who is having a marvelous Olympics (one goal, four assists), gave the U.S. the lead in the choppy game.
Wambach connected in the 74th minute, a 12-yard shot drive off a Tobin Heath through ball. That was her 140th international goal and U.S.-record sixth Olympic career goal, breaking a tie with Mia Hamm and Tiffeny Milbrett.
Three minutes later, Carli Lloyd added a 16-yarder off Rapinoe's pass to close out a choppy game.
Great Britain 3, Cameroon 0
The hosts clinched a spot in the quarterfinals, winning the Group E encounter in Cardiff, Wales. The British will face Brazil at Wembley Stadium on Tuesday to determine the group winner.
Captain Casey Stoney gave GB (2-0-0, six) all the scoring it needed in the 18th minute. Jill Scott doubled the lead five minutes later before Stephanie Houghton, who scored the game-winner in the victory over New Zealand, added a third goal in the 82nd minute against Cameroon (0-2-0, none).
"It feels great," GB's Alex Scott said. "Our first target has been achieved and we have to set out new targets, but we have to be realistic."
Canada 3, South Africa 0
Christine Sinclair scored twice in the second half after Melissa Tancredi gave the Canadians (1-1-0, three) the lead in the sixth minute in the Group F game against the winless Africans (0-2-0, none) in Coventry.
"All credit to the girls. They did their job," Canada coach John Herdman said. "I'm very happy with the performance but just wish we could have got another goal as it could have helped us later in the competition."
Sinclair found the back of the net in the 57th and 86th minutes.
"You can contain her for a period of time and when she's on, she's on," Herdman said. "I think that's the mark of truly great players, some days they're just unstoppable."
"Melissa Tancredi is scoring goals around her and I think that's taken a little bit of weight off Christine's shoulders."
Brazil 1, New Zealand 0
Cristiane extended her Olympic record goal total to 12 as she scored late in the Group E match to guarantee the Brazilians a spot in the knockout round in Cardiff, Wales.
The Brazilian tallied in the 86th minute after goalkeeper Jenny Bidon punched away an attempt.
It was New Zealand's second consecutive 1-0 defeat while Brazil improved to 2-0-0 and six points.
"New Zealand are a very good team. Very organized," Cristiane said. "It is very difficult to create chances against them. This is something we knew. Nobody said any of these matches at the Olympics were going to be easy."
France 5, North Korea 0
The French (1-1-0, three) bounced back from an opening 4-2 defeat to the U.S. as five players scored at Hampden Park. They need only a tie against Colombia on Tuesday in Newcastle to clinch a quarterfinal spot. The North Koreans fell to 1-0-1 and four points.
Laura Georges, Elodie Thomis, Marie-Laure Delie, Wendie Renard  and Camille Catala tallied for the winners.
"It was a great result after the game against the USA," France's Sonia Bompastor said. "It was mentally difficult after leading 2-0 and conceding four goals. We are not used to losing. Today we are happy, we had a lot of energy on the field."
Japan 0, Sweden 0
The defending Women's World Cup champions were held to a scoreless draw by the Swedes in a Group F game in Coventry. The Japanese moved to 1-0-1 and four points, as did Sweden.
After a slow first half, both teams found themselves in the second half. Swedish goalkeeper Hedvig Lindahl made two quick saves on Nahomi Kawasumi and Yuki Ogini to preserve the tie.
Michael Lewis, who is covering his seventh Olympic soccer tournament, can be reached at SoccerWriter516@aol.com.
Follow us on twitter.com/foxnewslatino
Like us at facebook.com/foxnewslatino