Woman hit by foul ball at Wrigley Field, taken to hospital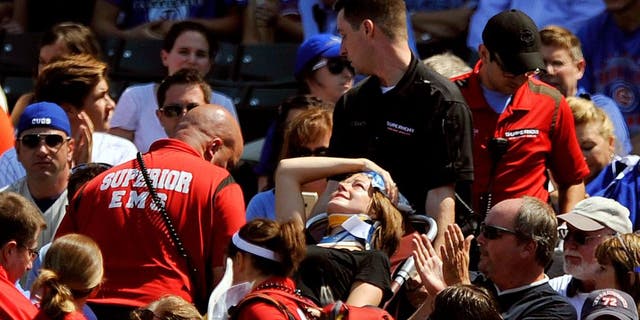 CHICAGO -- The Chicago Cubs says a female fan hit by a line drive foul ball during Sunday's game was conscious and taken to a hospital.
The woman was carried off on a stretcher at Wrigley Field. She was struck by a foul from Cubs rookie Kyle Schwarber in the first inning. She was sitting just past the camera well on the first base side.
The game between the Cubs and Atlanta Braves was briefly stopped as fans and ushers waved for medics. Cubs first base coach Brandon Hyde put his hands on his helmet after he saw the fan get hit.
On Friday, a female fan in Detroit was injured by a foul ball behind the Tigers dugout. That prompted Tigers star Justin Verlander and other players to say there needed to be changes at ballparks to protect fans, such as extra netting.
Major League Baseball has said this season that it was studying the issue of fan safety.
Earlier this year, a Massachusetts woman was seriously injured after being struck in the head by a broken bat in the stands at Fenway Park.
Last month, an Oakland Athletics season ticket-holder asked a federal court in a lawsuit to order MLB to extend the safety netting at its ballparks the entire length of the foul lines.