With decision on Brady's appeal ahead, here's what to expect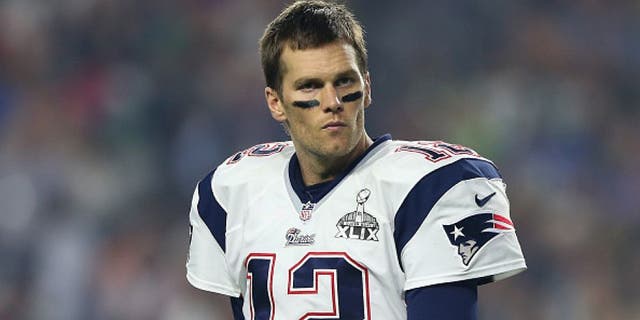 NEWYou can now listen to Fox News articles!
To put in perspective how long the "Deflategate" scandal has dragged on (and on and on):
Super Bowl 50 is 195 days away.
The AFC Championship Game in which the New England Patriots allegedly used improperly inflated footballs was played 190 days ago.
The saga may not be ending any time soon, either. While NFL commissioner Roger Goodell is expected to announce his decision about Tom Brady's appeal of a four-game suspension this week, the star quarterback's camp has made it clear through media leaks that he's prepared to fight in federal court any league judgment causing him to miss games.
Here are four predictions and observations on the situation and what to expect in the coming days.
Goodell's ruling should come by Wednesday
That's the day Patriots players report to training camp. It wouldn't be fair for New England to begin its preseason preparations without knowing whether Brady is cleared to play or more practice snaps must be given to his backups (Jimmy Garoppolo and Matt Flynn).
There's actually a good reason why the appeals process has taken so long
Multiple media outlets have reported that the NFL Players Association has staged backchannel talks with the league in hopes of finding an outcome that appeases both sides. Although he declined to offer confirmation last Thursday, NFLPA executive George Atallah didn't deny the reports either on my SiriusXM NFL Radio show.
"Any time a player finds himself in a difficult position, the NFLPA will attempt to use any and all possible ways to help support that player and get them out of that particular jam," Atallah told co-host Takeo Spikes and I. "Yes, those types of settlement talks happen all the time. Yes, those types of settlement talks are often engaged by our union or the player's representatives. Sometimes they're successful. Sometimes they're not. It's part of the normal course of business."
A Brady suspension is inevitable, but it won't be for four games
ESPN reported that the NFL responded "with silence" to an NFLPA proposal that Brady would abdicate four game checks worth $1.88 million in exchange for the league lifting the suspension.
This is understandable. If Brady were exonerated to that extent, the NFL essentially would be admitting the controversial "Deflategate" report produced by investigator Ted Wells lacked credibility. That would be an embarrassment for the league and call into question how much validity there was to the previous Wells probe of the Richie Incognito/Jonathan Martin bullying scandal.
Patriots owner Robert Kraft also would then be justified to change his mind and appeal the $1 million fine and loss of two draft picks that resulted from what the NFL claimed was complicity by team employees in providing Brady with underinflated footballs.
Yet even without having details of what was said during his appeals hearing with Goodell, I just can't see Brady being forced to serve the entire four-game suspension. And for that, Brady should offer Greg Hardy some thanks.
The NFL reduced Hardy's suspension for domestic violence on appeal last month from 10 games to four. The Hardy and Brady suspensions stem from two different NFL codes. Hardy violated the personal conduct policy. Brady's infraction falls under the "NFL policy on Integrity of the Game and Enforcement of Competitive Rules."
The mainstream public, though, sees this as the NFL currently giving the same punishment to someone who definitively struck a woman and a quarterback who was never truly caught red-handed telling an assistant equipment manager to deflate footballs. That isn't a good look for a commissioner whose credibility when it comes to administering league discipline is already in shambles.
In the league's defense, I suspect there was a bigger-picture issue the NFL was trying to address when coming down so harshly on Brady. It stems from his lack of cooperation in turning over text messages to Wells and Co.
The NFL doesn't have subpoena power for its investigations. But by giving a four-game penalty to arguably the best quarterback ever, the league sent a chilling message to all players about what to expect if they choose not to comply when under investigation. Before the appeals process, Goodell even said that "if there's new information that can be helpful to us in getting this right, I want to hear directly from Tom on that."
The four-game suspension also gave the NFL ample wiggle room to ultimately reduce the penalty, especially if Brady and his high-powered NFLPA attorneys made a strong enough case to make Goodell change his mind.
My prediction for Goodell's appeal is ...
Brady will be suspended for two games. Brady will then have to decide how much longer he truly wants to fight.
The next recourse would be heading to federal court seeking an injunction against the suspension, which also would present a golden opportunity for the NFLPA to once again attack Goodell's standing as judge, juror and jailer for player discipline. But there's no guarantee such a legal maneuver would work.
Even if it did, there's always the possibility of Brady losing in court later this year and then being forced to serve the suspension during a more critical stretch of the season. Legal action also would keep the Patriots from moving beyond the "Deflategate" scandal.
That may not be a big deal to Brady and head coach Bill Belichick, who is the master of minimizing outside distractions that could affect his team's on-field play and preparation. But it should matter to Kraft. He will own the team long after Brady and Belichick are gone, which means protecting the team's image is of vital importance.
The fallout from "Spygate" in 2007 still looms over the franchise. "Deflategate" further reinforced a widespread perception among non-Patriots fans that New England's sustained success stems as much from cheating as Brady's greatness and Belichick's coaching acumen.
Kraft, too, has aspirations of someday being inducted into the Pro Football Hall of Fame. The more he can distance himself from "Deflategate" immediately, the less of a hit his personal image will take.
Of course, he wouldn't be the only one hoping for closure after all this time.