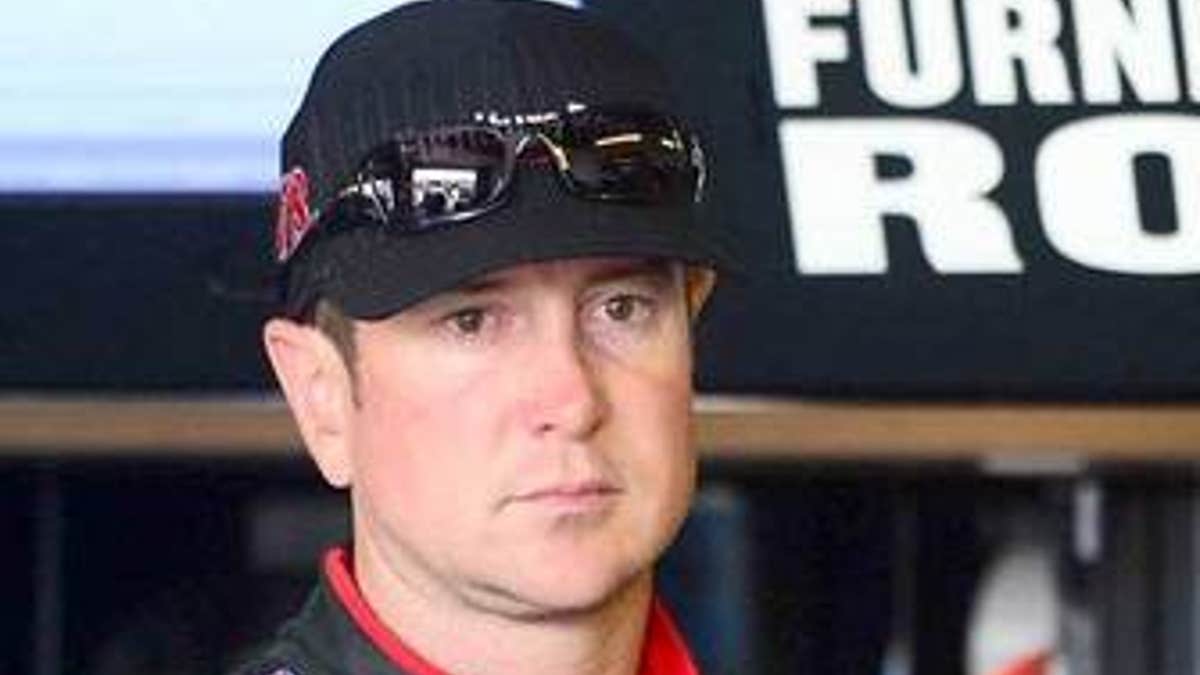 ASHEVILLE, N.C. – When was the last time a single-car team qualified for the Chase to the Sprint Cup?
Never.
When was the last time any team from outside of North Carolina qualified for the Chase to the Sprint Cup?
Never.
Furniture Row Racing could be the first team to do both.
When the Chase is set at Richmond International Raceway in just over three weeks, the Denver-based team hopes to make history as the first single-car team to qualify for one of the 12 championship contender positions.
And with 2004 NASCAR champion Kurt Busch behind the wheel - a driver who has qualified for the Chase in six of the previous nine playoffs - chances are good that the No. 78 Chevy will be in NASCAR's postseason for the first time since the team's inception in 2005.
That's if the company and the driver can maintain an even keel over the next few races while Busch settles his plans for next season and beyond.
While it has always been Furniture Row's intention to move forward with Busch, the team assumed there would be time to negotiate a new contract. That was before Sunday's bombshell news of an offer to Busch from Stewart-Haas Racing.
SHR's proposal to Busch "accelerated the process," according to Furniture Row general manager Joe Garone. The team is currently working on a competing offer.
"It would have been our desire to focus on getting into the Chase first," Garone said. "We need to focus on what's in front of us, and that's what we're doing. But of course, we'd like to keep Kurt on board."
Busch is currently ninth in the Cup point standings, 148 points behind leader Jimmie Johnson and just six points ahead of 11th-place Kasey Kahne. The top 10 in points will qualify for the Chase along with the next two drivers in the top 20 with the most wins.
Busch has no wins this year. So despite the progress crew chief Todd Berrier has made with the No. 78 team, Busch's claim on a Chase spot is tenuous.
Four drivers behind Busch - Greg Biffle, Kahne, Martin Truex Jr. and Joey Logano - have wins that offer them some insurance for the two wild-card positions. Drivers Dale Earnhardt Jr. (seventh) and Brad Keselowski (eighth) do not. But only 33 points separate Junior from Logano with Bristol, Atlanta and Richmond left to decide the Chase field.
However, Busch has earned nine of his 24 career wins at the next three race tracks. He owned Bristol during his Roush Fenway Racing era - notching four of his five Thunder Valley victories in 10 starts in the No. 99 Ford.
Although this is just the fourth full season for the Barney Visser-owned race team, the highest the organization has finished in the point standings was 24th last year after Busch signed on for the final six races of the season. The team's technical relationship with Richard Childress Racing has proven to be beneficial to both companies and has fortified Furniture Row's position as a single-car operation.
But how strong would the company be sans Busch? That would depend which driver fills the seat moving forward and how long it would take to acclimate to FRR's systems.
Ryan Newman and AJ Allmendinger are still looking for rides for next season. Garone has traded texts with Juan Pablo Montoya, who was not renewed by Earnhardt Ganassi Racing for 2014. One point Garone wants to clarify is that, should Busch depart at season's end, Furniture Row would carry on.
"Us not racing has never been on the table," Garone said. "There are no offers to do anything but continue forward."
Garone is optimistic that, with the caliber of driver and the strength of the team's cars, the No. 78 has a great shot at the Chase.
"Kurt is as good as anyone to run for a championship," Garone said. "Our cars are strong, and I'm convinced that Kurt can get the most out of them."
WHERE THE RUBBER MEETS THE ROAD
Goodyear is using experience acquired from its street tires since 2004 to offer a compound with more grip and better durability to the tires used in NASCAR competition starting next week at Atlanta Motor Speedway.
After several tests, most recently with 13 teams at AMS on Aug. 6, Goodyear engineers are confident that the new "zone tread" tire will help control some of the heat issues that have developed with the old compound in the inner shoulder of the tread. Both Dale Earnhardt Jr. and Ricky Stenhouse Jr. blew right front tires on Sunday at Michigan due to heat-related issues.
The new combination will be coupled with the same left-side tires that raced at Atlanta last year.
"We think this technology really opens the door for a lot of new things, a lot of new ways to approach things from a compounding perspective," said Greg Stucker, Goodyear's Director of Race Tire Sales. "We're going to move slowly on it, but you're certainly going to see more of it."
In addition to Atlanta, Goodyear tested the tire at Kansas, Las Vegas and Michigan. Engineers have two additional tests: at Phoenix on Sept. 10-11 with the Nos. 10, 17, 42 and 55 teams; and at Bristol on Sept. 17.
"Everything has been very positive in testing so far," Stucker said. "But until you make a huge volume and get them out there in race conditions -- that's always the ultimate test."
SOCIALIZING
With Jimmie and Chandra Johnson expecting a second child soon, "Five-Time" tweeted out the No. 48 team's emergency plan:
regansmith is turning some laps in the #Lowes48 today. Getting him ready "in case" I'm racing to the... http://t.co/1fBOZLNWTA
-- Jimmie Johnson (@JimmieJohnson) August 21, 2013 NUMBERS GAME
6: How many Turner Scott Motorsports chassises competed in Wednesday night's UNOH 200 at Bristol Motor Speedway.
17: Age of Chase Elliott - now the youngest pole winner in the truck series following Bristol qualifying. Cole Whitt held the previous record (2011) at 19 years, eight months, 18 days.
33: Wins for Kyle Busch in the truck series after Wednesday night's victory. Busch is second on the all-time win list in trucks in 111 career starts. Ron Hornaday leads the tour with 51 victories in 335 starts.
SAY WHAT?
Kyle Busch on his crazy hands-free celebratory burnout at Bristol:
"I did it last week or a couple weeks ago at Watkins Glen - getting out of the car while I was doing the burnout," Busch said. "Everybody says, 'How are you going to top that?' I come up with something and you might as well start outside the truck. I screwed up the first time - I stalled it, but I think I made up for it. Hopefully, the fans have some fun with that and you never know what I might be able to do next."