Why Urban Meyer hated but now is thankful for an unusual Greg Schiano passing drill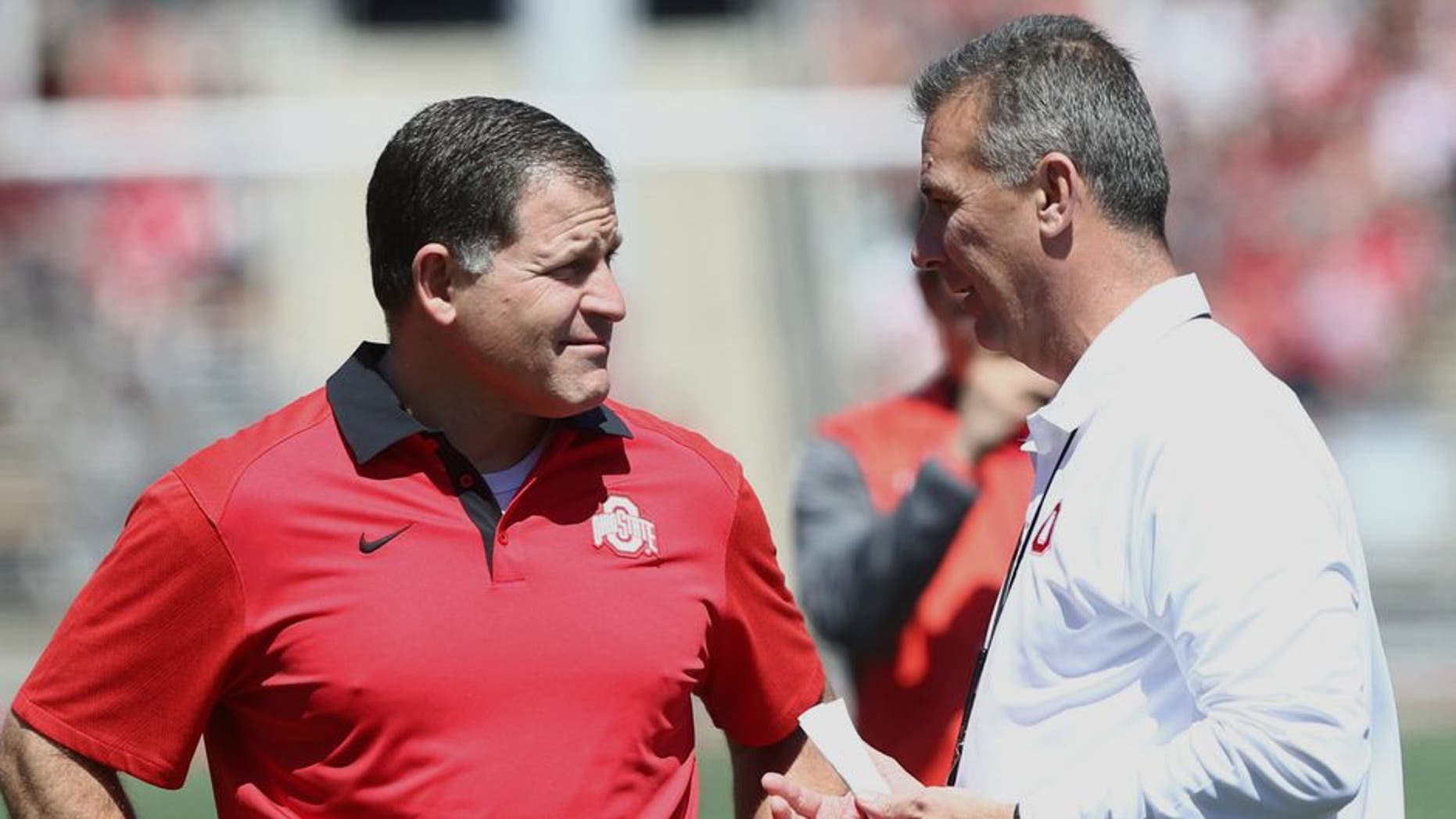 "He made a comment to me a year ago (after Schiano was hired) that we werent great in turnovers, Meyer said. "We were good but why cant we become that suffocating defense? His drill-work is reflective on that.Thats what makes him a great football coach.Thats what makes him special."
Joseph Maiorana/USA TODAY Sports
Schiano picked the drill up from Bill Belichick. The two became close after Belichicks son Stephen, a former Rutgers lacrosse player, became a long snapper for Schianos Scarlet Knights. Belichick would come down to RU on some Saturdays and the coaches would talk ball or Schiano would go visit Patriots training camp."I picked up a zillion things, he says. "Hes at just a different level of coaching and understanding of football, and its all three phasesoffense, defense and special teams."
"Greg Schiano is one of the top coaches in America, head or assistant coach, Meyer said. "His record is impeccable. Hes also a very dear friend. I thought hed be great, but its been even better than I thought. On a personal level, hes been incredible for me to have as a sounding board as a guy that sat in that chair, and obviously from a statistical standpoint, from what our defense did from a year ago speaks for itself."
USA TODAY Sports/Joseph Maiorana
"He is the hardest-working recruiting head coach Ive ever seen, he said. "I thought I was like off the charts. I was not even close. Hes a machine. Just so passionate about it. Thats what drives the recruiting at Ohio State. He sets the standard here. Coachs best attribute is that he dives right in. Hes in the middle of relationships with every one and hes current on everything.He set the bar to me of what a head coach needs to do as a recruiter."
"My wife told me I remember the happiest you were was when you were the defensive coordinator coaching your kids at Miami, he said. "I think what happens is when youre the head coach, theres so much thats on your mind all the time.When youre the head coach, youre in charge of every support person of every person that touches the program, everybody that touches the coaches, the players."