Why Fournette leads Cook despite stats -- and how that can change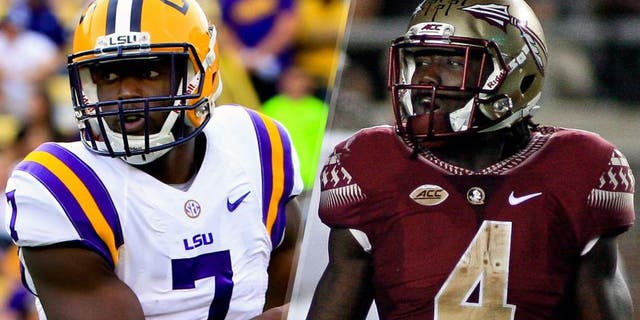 NEWYou can now listen to Fox News articles!
Editor's note: The following is an excerpt from Stewart Mandel's Oct. 21 Mailbag. For his full Mailbag, click here, and to submit a question for next week, email Stewart.Mandel@fox.com or visit his Facebook page.
Stewart, I'm wondering why everyone just takes it for granted that Leonard Fournette is the best running back in college football. Dalvin Cook is averaging more yards per carry (8.7 vs. 8.0), and he is doing it against higher-ranked rushing defenses on average (54.3 vs. 77.) Additionally, Bill Connelly published an article this week detailing how Cook is WAY more explosive than Fournette (11.93 "highlight yards" per opportunity vs. 8.26). Why do people just assume Fournette's numbers mean more? Because S-E-C, S-E-C?
-- Read Pope, Atlanta
Those are all valid points. I admire Bill's analytics work, and he's presented an interesting approach to quantifying "highlight" plays. End of day, though, highlights are visual. They unquestionably play a big part in the Heisman race. And something as seemingly arbitrary as what time each guy plays, and on what network, plays a big part in how many of those highlights voters actually see.
For example, I, like a lot of folks, have Fournette No. 1 and Cook No. 3 in my most recent Heisman poll, so let's take a moment to figure out how we got there. It started with Fournette's monster Week 3 performance against Auburn, which, while devalued now, felt like a big game at the time. Auburn was a preseason Top 10 team that had not yet lost. It was the 3:30 p.m. ET CBS game, watched by 4.3 million people. Cook, by contrast, played the night before and ran for just 54 yards against Boston College.
Then, over the next two weeks, while Fournette put up 244 and 233 yards, respectively, against two bad teams, Cook was completely out of sight because of a bye and getting injured after just two carries against Wake Forest. He only started garnering serious traction with his 222-yard performance in a prime-time ABC matchup against Miami on Oct. 10.
The Heisman is a horse race, and ultimately the only ways one guy passes another is if the guy in front falters or the guy behind him does something extraordinary. Therefore, the key date for both these guys is Nov. 7, when LSU plays Alabama and Florida State visits Clemson, both most likely in prime time. If Fournette leads the Tigers to victory against 'Bama, it's going to be awfully hard for anyone to catch him. If he struggles and loses, and if Cook has a huge game and beats an undefeated Clemson team, he'd likely lap him right there. Ultimately those moments will matter much more than metrics.
Stewart Mandel is a senior college sports columnist for FOXSports.com. He covered college football and basketball for 15 years at Sports Illustrated. You can follow him on Twitter @slmandel and Facebook. Send emails and Mailbag questions to Stewart.Mandel@fox.com.