Which of the last 3 World Cup champions will make the Euro 2016 semifinals?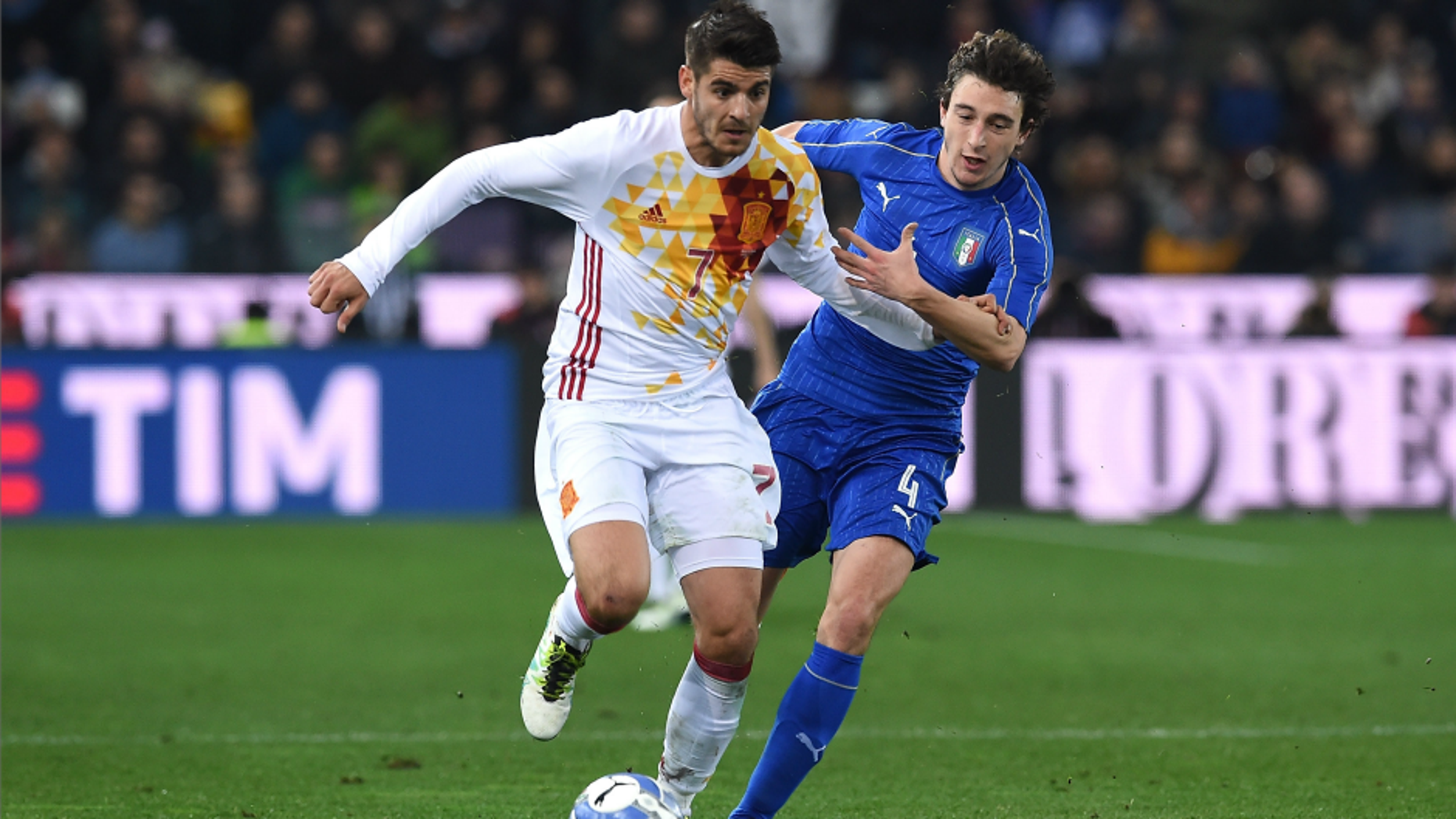 With the Round of 16 underway at Euro 2016, all eyes are fixating on the "Bracket of Death," and really, "death" might be too tame a word.
Two of the last three World Cup champions will be going home before the semifinals, and we have no idea who will survive. Germany, Spain and Italy didn't just land in the brutal bottom half of the knockout stage bracket -- along with France and England -- the three were lumped together in the same quarter.
Together, Germany, Spain and Italy have gobbled up nine of 20 World Cups and seven of 14 European championships. There have been just three Euros and six World Cups at which none of them reached the final, the last time being the whacky 2004 Euros, which saw all three crash out at the group stage while Greece shocked the world and made Cristiano Ronaldo cry.
And now, only one them will have the chance to make it back there.
Germany, provided they don't fluff their lines against Slovakia, are assured the most uncomfortable quarterfinal possible. Italy and Spain are Die Mannschafft's two bogey teams – one old, one new. Italy has never lost to Germany on the big stage in eight meetings, most recently crushing their dreams in the semifinals of the 2012 Euros and the 2006 World Cup. Spain, the new nemeses, outclassed Germany the last time they made it to a Euro final, in 2008, and then again two years later in the World Cup semifinals in South Africa.
Italy and Spain are the only two teams that have eliminated Germany from a major tournament in the past 10 years, and now Germany have to face one of them in the quarterfinals (again, barring a calamitous loss to Slovakia). Pick your poison, basically.
Not that either team is exactly jumping for joy at the prospect of a date with the reigning world champions. They can't afford to look ahead, anyway, because for them the gauntlet starts right now, with a rematch of the 2012 final.
The clash is especially daunting for Italy, who haven't beaten Spain in a game that mattered since the 1994 World Cup. Vicente del Bosque's team trounced them 4-0 in the final four years ago (after playing to a draw in the group stage), and knocked them out on penalties in the 2008 quarterfinals. On Sunday, Spain can become the first team to eliminate the same opponent in three straight Euros.
But the two-time defending champions looked vulnerable in a late loss to an undermanned Croatia, who rallied from an early deficit to steal first place in Group D and get us all in this beautiful mess to begin with. (Thanks a lot, Ivan Perisic. Looking at you too, David De Gea.)
David Silva, Cesc Fabregas and Andres Iniesta have all looked at their brilliant best at times, and Alvaro Morata has assuaged pre-tournament concerns over who would put in the goals for Spain. After a tremendous fall from grace in Brazil two years ago, La Furia Roja seem to have gotten their mojo back. But the Croatia game proved they're still susceptible to losing focus, almost playing too arrogantly at times, and consequently making too many mistakes at the back.
That could open the door for an Italian side that's not that talented on paper, but makes up for it with their cohesiveness and a thorough understanding and execution of Antontio Conte's game plan.
The Italians' masterclass against Belgium didn't just prove that the defense remains among the best in the world. They also exhibited surprising ruthlessness going forward. Italy needed just nine shots to score twice against Belgium, and only five to notch the winning goal against Sweden to clinch Group E. That's only made the Azzurri more confident, and an Italy that believes in itself is a dangerous Italy.
Germany can only dream of such efficiency. The only thing more worrying than their history against Italy and Spain (or Jogi Loew's hygiene) is their inability to put the ball in the net.
For all of Germany's suffocating possession and passing clinics, they've been shockingly unproductive. After two lackluster performances against Ukraine and Poland, Loew smartly plugged Joshua Kimmich in at right back over the offensively challenged Benedikt Hoewedes, and Mario Gomez up top for the hapless Mario Goetze. Those changes inspired a much more fluid and potent attack last time out, but it still took them 21 attempts to put just one past Northern Ireland. Germany are getting stronger, but Italy or Spain won't leak that many opportunities.
Can Germany sort out their finishing woes in time? Will it matter? We won't know if they finally figured out how to beat Italy or Spain until they actually do it. And which of those two they'll end up playing is a toss-up, too.
The only thing we do know is it's going to be fascinating to watch, and that two of the last three World Cup champs will be gone this time next week. As for the lucky survivor? They'll likely have France or England waiting for them in the semis, so good luck with that!
MORE FROM FOX SOCCER