Whether heartbreak or jubilation comes, reveling in opportunity that awaits Predators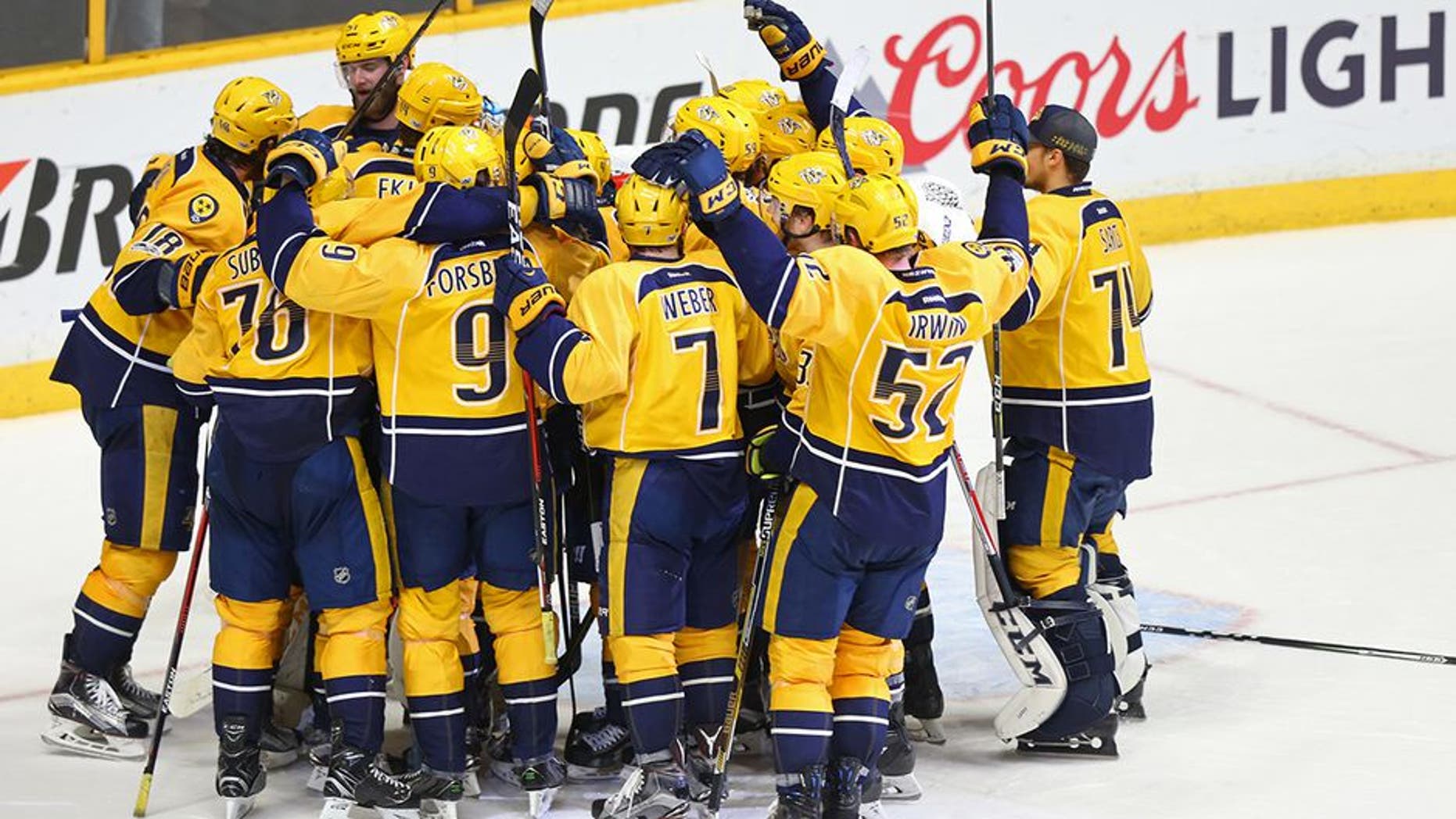 It's not often that Nashville has an opportunity to win a major sports championship. Hell, this is only the second time in nearly 20 decades it's happened.
Yet, after a 6-3 win over Anaheim on Monday night -- and the score is nowhere indicative of how that game played out -- the Predators are only four wins away from bringing arguably the greatest trophy in sports for a year-long sabbatical in the Music City.
It still feels a tad surreal that we can sit here and say that.
How did Nashville get here? How did a team that nearly everyone had counted out at the end of the regular season knock out three of the toughest opponents possible to win the Western Conference?
"Gutsy efforts," "determination," "grit," "Predator hockey" -- whatever combination of buzz words you choose, like a poor man's game of Words With Friends, doesn't seem adequate enough to describe what the Predators have done over the course of their 12 wins.
In reality, it's a combination of great coaching, unbelievable goaltending, resiliency and fortuitous bounces. Most would argue that would all boil down to just being lucky.
Because sometimes that's what hockey is about -- being lucky at the right time, having these good bounces go your way when you need them the most.
Half of a second earlier or later and Colton Sissons' game-winner on Monday doesn't make it into the net past Ducks goaltender Jonathan Bernier.
Half a step to the right and Pekka Rinne maybe recovers enough to not allow the tying goal five minutes before that -- regardless of whatever potential goaltending interference was there.
Maybe that forfeited timeout that the Predators lost while challenging the aforementioned interference play comes back to bite them?
Maybe Anaheim's John Gibson ends up healthy enough to start Game 6 and we're discussing a potential Game 7 happening instead of a Cup Final berth?
There are so many different "what if" scenarios that we can evaluate, but let's look at reality -- the Nashville Predators swept the Chicago Blackhawks, beat the St. Louis Blues in six and did the same to Anaheim to clinch their first ever Western Conference Championship.
Make no mistake about it, luck and great bounces aren't the only reason that the Predators are one-half of the duo competing for the Stanley Cup.
Even more impressive is what the opposition's best players did against Nashville in that same span -- practically nothing.
Against the Ducks:
Ryan Getzlaf -- zero goals, four assists
Corey Perry -- two goals, zero assists
Ryan Kesler -- zero goals, one assist
Against the Blues:
Vladimir Tarasenko -- two goals, one assist
Alex Pietrangelo -- zero goals, three assists
Paul Stastny -- one goal, one assist
Against the Blackhawks:
Patrick Kane -- one goal, one assist
Jonathan Toews -- one goal, one assist
Marian Hossa -- zero goals, zero assists
Nashville has held the opposition's best players to a combined 19 points in 16 games.
That's just an unbelievable statistic.
Besides that, the Predators have controlled much of the possession across that same span of games as well. They're second in the playoffs with 132 takeaways, they're shooting at a 9.8 percent rate and currently lead the remaining playoff teams with a 51.38 CorsiFor percentage across all situations.
Translating mild success in the regular season into the best playoff run in Predators franchise history may prove that it's about peaking at the right time.
As Nashville prepares to meet the equivalent of a video game's final boss, it allows time for a bit of reflection.
November 27, 2002 was the first time I ever saw a Predators game in person. Luckily, it would also coincide with the fourth hat trick in franchise history. Outside of an Andy Delmore game-winning goal six minutes into the third, Predators forward Andreas Johansson -- who was, until recently, head coach of Modo in Sweden's HockeyAllsvenskan league -- scored a goal in all three periods, the last coming with 1:13 remaining on the clock.
My father, Donald, was an avid Montreal Canadiens fan before the Predators arrived in Music City. Growing up through the 1940's in Ogdensburg, New York, it was only a 60-mile drive away from Ottawa -- who coincidentally the Predators could potentially play Monday night in Canada's capital -- and a two-hour drive to Montreal.
He learned to skate at seven, hit the ice at nine and continued playing through his high school years. During the brutal winters in upstate New York, he and his teammates would play regular games against local teams on the Oswegatchie River, but would also bus 10 miles down the road to Morristown, N.Y., and skate across the St. Lawrence River to play the local team in Brockville, Ontario.
"We had to get permission to skate across and they had to get permission to come to our side because the water on the [St. Lawrence] was the deepest there," he told me. "They would have to check both sides. It would be 56 degrees below zero so the river would freeze over. We'd have to get permission from our parents and border patrol before we'd skate a mile across the ice to play them."
While playing against friends, classmates and other local teams was a normal occurrence, my dad would treasure the games against the Canadian teams. Because it wasn't about playing for international bragging rights, but about competing against the best talent available to them -- regardless of where it came from.
"There was no fighting or anything, but they were skaters," he continued. "All of us were skaters. We didn't beat them all the time. They were good. They were brought up with [hockey]. They were born with it. We'd play them five-on-five and the goals were wooden, in a square U-shape made of two-by-fours.
"The goalies wouldn't have any masks and some of these kids would wear speed skates, which stuck out in the front. We'd put our stick in-between their skate and trip them. They were so fast and they were so good that we just wanted to beat the [expletive] out of them in any way we could. It was real hockey."
As he rattled off those last two lines to me, it warped me back to what's happening on the ice for the Predators. Real hockey -- the kind that we've been groomed to watch for decades upon decades. Whether it's being played on a frozen river or in an arena surrounded by nearly 18,000 fans, Nashville's played the right way to bring them four games away from the greatest of crescendos.
It's not dirty hockey. It's exciting, fresh and reminds us what we all came to love about this sport -- we're all just one bounce away from mind-numbing exhilaration or gut-wrenching heartbreak.
And we wouldn't have it any other way.