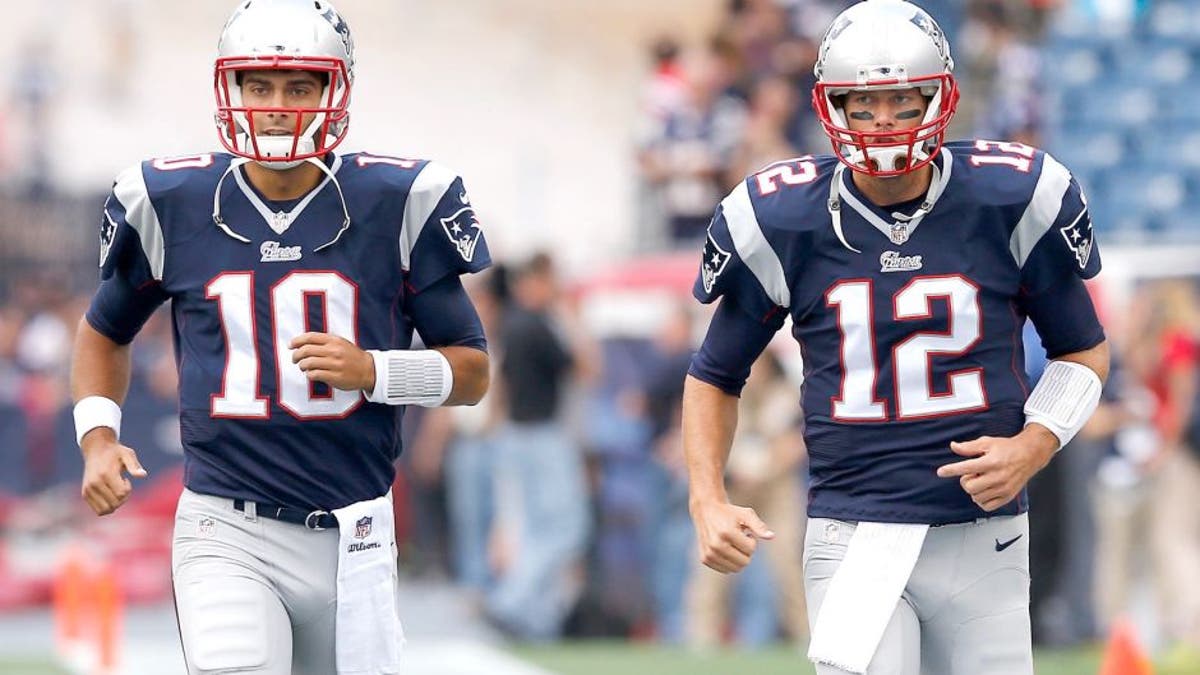 Tom Brady's lifted suspension means the New England Patriots will have their star quarterback for all 16 games this season -- barring injury. U.S. District Judge Richard M. Berman nullified Brady's suspension on Thursday, criticizing NFL Commissioner Roger Goodell for dispensing "his own brand of industrial justice."
This is the best possible outcome for the Patriots and Brady, as it gives them as good a chance to win the Super Bowl as anyone.
If there's one person that Brady's return directly impacts, it's backup quarterback Jimmy Garoppolo. At first, it would seem like a bad thing for Garoppolo. But as a whole, the entire offseason has been hugely beneficial for the second-year quarterback.
He may not be the starter for Week 1 -- or at all this season -- but he has gained the trust of the front office and coaching staff. By the Patriots not bringing in a veteran that could actually threaten Garoppolo's job (Ryan Lindley didn't), they showed a great deal of confidence in their backup quarterback. This offseason showed the coaches that when the Brady era ends, Garoppolo is a guy they can hand the reins to.
For Garoppolo, he saw a lot of time in preseason games and was able to work with the first-team offense fairly often, which helped prepare him for life as a starting quarterback in the NFL. Needless to say, that time on the field will only help Garoppolo grow, while Brady's return will give him more time to improve. While he played well in the preseason, completing 76 percent of his passes for 554 yards and two touchdowns, he still needs polishing as a signal caller. He threw two interceptions in three games and could use some refinement with regards to adjusting plays to beat the blitz. In all though, he was solid in three games.
"Traditional" backups in the NFL aren't expected to play, but they have to be ready if their number is called. Garoppolo practiced as if he would play Week 1, and was treated like a starting quarterback -- both by the coaches and by the media. Given Brady's silence in the media, Garoppolo was asked questions daily and was the go-to player for the media. That alone, is valuable for a young quarterback like Garoppolo. He handled himself extremely well in the media, keeping his focus on himself and only himself -- not the distractions of Deflategate.
As strange as an offseason as it was for the Patriots, Garoppolo certainly didn't come out of it as a "loser" -- even with Brady being available for Week 1. He was treated like a starting quarterback by the coaches with the extra work that he got in practice, and ultimately came out a "winner" through it all.
Garoppolo proved that he's at least worthy of being considered the quarterback of the future for the Patriots after Brady retires. And if Brady were to ever get injured, Garoppolo has a good hold of the offense and will always be prepared to enter the game.
He may have lost some fantasy football value, but Brady's return doesn't hurt Garoppolo's longterm prospects -- it actually helps them.