What is Bengals CB 'Pacman' Jones' NFL future?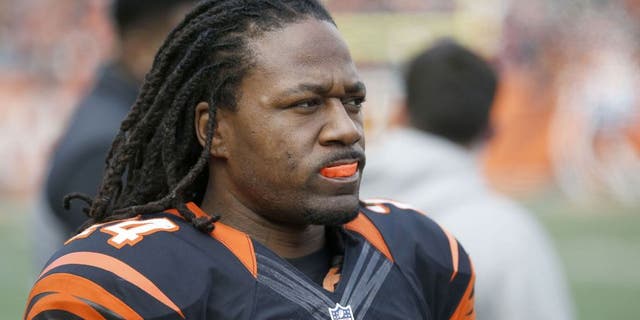 CINCINNATI (AP) -- Bengals cornerback Adam "Pacman" Jones is trying to prove to the people who will determine his future that he's making up for his latest mistakes in a career marked by legal troubles.
His team, the NFL and a county prosecutor all have decisions to make about how to discipline Jones, who is getting treatment for alcohol and anger issues as he stands accused of scuffling with a security guard and police and spitting on a jail nurse. Authorities say the confrontation started when Jones started pounding on doors at a hotel near the Bengals' stadium.
One factor to consider is Cincinnati police video released this week that shows Jones swearing at police after his Jan. 3 arrest on charges including assault, disorderly conduct and obstructing official business. The video prompted apologies from the Bengals and Jones, whose attorney Timothy Schneider said the 2014 All-Pro kick returner was getting professional care.
"These are difficult situations," Schneider said, declining to discuss details of Jones' care.
Hamilton County Prosecutor Joe Deters earlier this month raised some eyebrows by saying he wanted to know how the NFL plans to discipline Jones before deciding what to do.
Deters has said showing remorse and getting help could affect his decision.
"If he gets suspended for four games, he loses $2 million," Deters told The Cincinnati Enquirer earlier this month. "We have drunken idiots every night that don't get fined $2 million."
Deters is also waiting for information on Jones' treatment efforts, Deters' spokeswoman Julie Wilson said Thursday.
Jones said as he left jail Jan. 4 that he shouldn't have been arrested and expected to have charges dropped.
The NFL has said only that it is reviewing the case under its personal conduct policy. The league can suspend or otherwise discipline Jones even if he isn't convicted in court.
Some fans are calling for the Bengals to sever ties with Jones, who is 33 and has two years left on his contract. The Bengals' statement said the team was "extremely disappointed" with Jones' behavior, but didn't comment on his future.
The Bengals gave Jones the opportunity to resurrect his career by signing him in 2010 after Jones missed a year following a series of arrests and suspensions with the Tennessee Titans and Dallas Cowboys. He became a starting defensive back and kicker returner, making the 2015 Pro Bowl team.