Watch two NHL players get ejected for incredibly dumb plays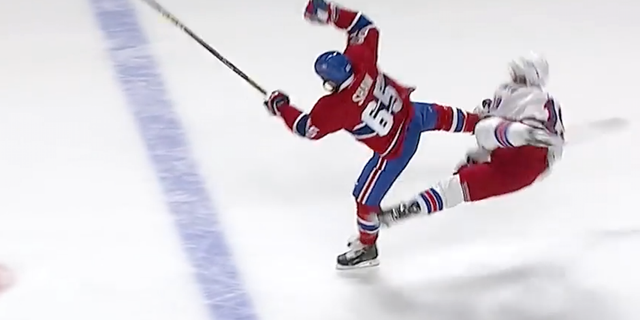 What a weekend it was for misbehaving in the NHL. The league's Department of Player Safety will start the new week off busy as they review a couple of dumb and dangerous plays from Saturday's slate of action.
The first came from Montreal, where Andrew Shaw delivered a late, blindside hit to the Rangers' Jesper Fast. It was Shaw's first game since early December, when he suffered a concussion. He played 5:06 in the game before delivering the hit that earned him a match penalty.
Shaw could face supplemental discipline from the DoPS, especially since this isn't his first offense. Shaw has been suspended multiple times, including during preseason earlier this year. Shaw earned a three-game ban after boarding Capitals' prospect Connor Hobbs.
While Shaw's hit was certainly late, unnecessary and dangerous, it didn't appear to be high. A multi-game suspension would be unavoidable had Fast's head been the principle point of contact, but Shaw initiated contact shoulder-t0-shoulder, which is the best thing he has going for him in this case.
Later on Saturday, San Jose Sharks veteran center Joe Thornton also got sent to the showers early thanks to a spear to an opponent's midsection. Thornton, who isn't typically known as a dirty player, let his emotions get the best of him and used his stick to deliver a nasty jab at Blues forward Paul Stastny away from the play.
The dirty play earned Thornton a five-minute major and a game misconduct. Understandably, Stastny's teammates weren't thrilled with Thornton's antics and let him hear about it in the aftermath. St. Louis captain Alex Pietrangelo either had an uncontrollable itch or felt like there was a way he could send a sneaky message to Thornton.
The league may decide that five and a game is enough of a punishment for Thornton's uncharacteristic misconduct, but we've also seen similar antics result in short suspensions as well, so it could go either way.