Watch out, Vikings: Mike Wallace admits he's getting frustrated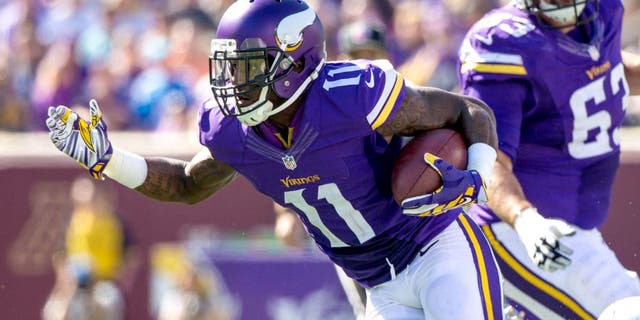 Vikings WR Mike Wallace has only caught one pass over the last two weeks. Brace Hemmelgarn USA TODAY Sports
The Minnesota Vikings wanted to make their offense more dynamic, so they made a trade with the Miami Dolphins for notorious deep threat Mike Wallace.
The Dolphins were eager to get rid of Wallace, whose final game in Miami ended with a second-half benching and a bizarre post-game interview in which then-teammate Brandon Gibson fielded questions from reporters for him. The speedy wideout spent two seasons in South Beach and never really clicked with quarterback Ryan Tannehill. His frustration was starting to boil over by the end of his stay.
Minnesota was supposed to be a new start for Wallace, but it looks like it could be more of the same. After catching just one pass over the last two weeks, the star receiver admitted that he's starting to get frustrated with the lack of attention, according to Chris Tomasson of the Pioneer Press.
The Vikings are 6-2, so Wallace hasn't been a problem. However, if this hot streak turns sour, he has a history of becoming a perceived pain in the neck. The Dolphins, for example, finished 8-8 in both of his seasons with the team.
Wallace may never be as happy and productive as he was with the Pittsburgh Steelers during the early part of his career. There, he had a quarterback who liked to air the ball out and spread it around in Ben Roethlisberger. He averaged closer to 20 yards per reception back then, and he even made a Pro Bowl in 2011.
Teddy Bridgewater isn't that type of quarterback, nor is Minnesota's offense geared toward that type of production. The low-risk passing attack that complements Adrian Peterson's pounding it out on the ground favors possession receivers rather than speedy streakers.
MORE NEWS: Want stories delivered to you? Sign up for our NFL newsletters.