Washington State uses two crazy touchdowns to beat Oregon in double OT (Video)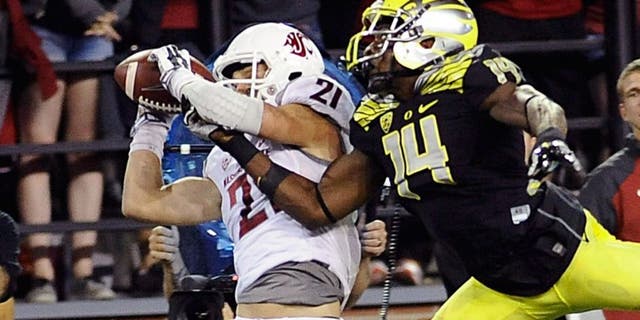 NEWYou can now listen to Fox News articles!
Don't ever count out Washington State.
Trailing 31-21 with four minutes left against Oregon in Eugene, the Cougars were thought to be done for. However, they had other ideas.
After kicking a FG with 3:53 left, the Cougars stopped the Ducks in time for one final drive. With eight seconds left, QB Luke Falk threw to the left corner of the end zone and found wide receiver Dom Williams with one second left on the clock to tie the game.
After trading touchdowns in the first overtime, Falk led the Cougars down to the four yard line in the second overtime. Falk tossed a pass to River Cracraft, who caught and then lost control of the ball at the one yard line. Before the ball hit the ground, receiver Robert Lewis scooped up the ball and scored a miraculous touchdown.
The Cougars stopped the Ducks on the following possession and took home an incredible upset over the Ducks.