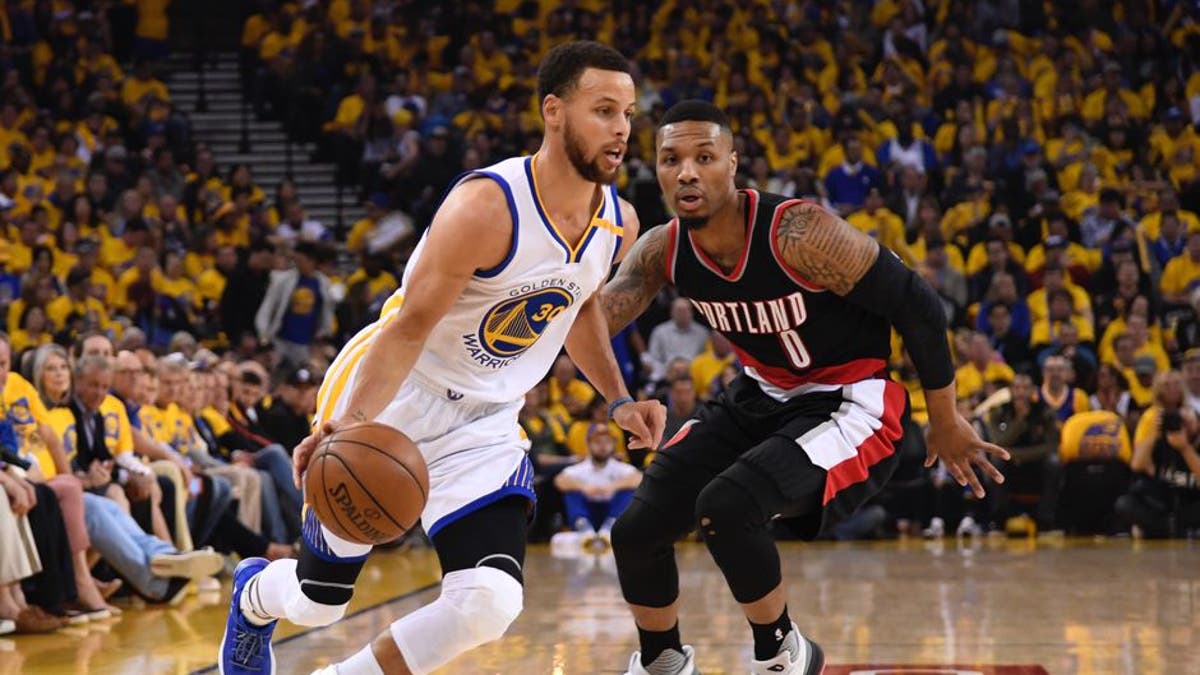 The eighth-seeded Portland Trail Blazers showed plenty of fight against the Warriors in their playoff series-opener Sunday, staying tied with Golden State through the game's first three quarters. ButDraymond Green led a defensive charge to help the Warriors go on a 15-2 run to startthe fourth, on their way to a 121-109 Game 1 victory in the best-of-7 series.
The Blazers' guard tandem of Damian Lillard and C.J. McCollum put on a show in the first half, combining for 48 points to help Portland stay even with the Warriors at the break.
Things remained tight in the third, until Stephen Curry and Kevin Durant sparked a 10-0 Golden State run late in the period to give the Warriors an eight-point cushion. Portland battled back, however, and things were tied up again after three.
That's when Draymond Green put his stamp on this game.
The Defensive Player of the Year candidate opened thefinal period alongside Andre Iguodala, Klay Thompson, David West and Ian Clark, and was instrumental in holding the Blazers to just two points in a five-and-a-half minute span that effectively put the game out of reach. Green finished with an incredible line of 19 points, 12 rebounds, nine assists, three steals and five blocked shots.
The Blazers were without starting center Jusuf Nurkic, who has missed the past seven games with a non-displaced right leg fracture. He's averaging15.2 points, 10.4 rebounds and 1.9 blocked shots since coming to Portland in a February trade from the Nuggets, and might be available to return later in the series.
Durant led the Warriors with 32 points on 12-of-20 shooting, and Curry finished with 29 of his own. McCollum ended upwith 41 points for the Blazers, while Lillard added 31. Game 2 is Wednesday night at Oracle Arena at 10:30 p.m. ET.