Warriors complete sweep, advance to 3rd straight Finals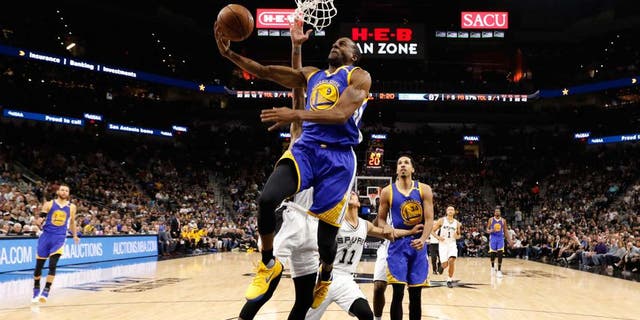 SAN ANTONIO (AP) -- Kevin Durant does not need to be told that Golden State should have a muted celebration after winning the Western Conference Finals.
Durant is fully aware a tough challenge waits for them. It's why Durant signed with the Warriors and why Stephen Curry, Klay Thompson and Draymond Green embraced him at the expense of their own stats.
"We have a bigger goal in mind," Durant said.
Golden State has a chance to earn their second championship in three years after sweeping the San Antonio Spurs with a 129-115 victory Monday night.
The Warriors became the first team in league history to open the playoffs 12-0, which provides them with a week of rest prior to their third straight finals appearance.
Golden State will host Game 1 of the NBA Finals on June 1 against either Cleveland or Boston. The Cavaliers hold a 2-1 lead in the Eastern Conference Finals, but Curry alluded the Warriors are expecting a rematch with LeBron James and company.
"We all know, obviously, who we're going to play," Curry said. "We'll be watching the Eastern Conference Finals to see how that unfolds. But it will be easy to start this new chapter and really just lock in on what's in front of us."
Facing Cleveland will resurrect chatter of Golden State's collapse in last season's finals, which saw the Cavaliers rally from a 3-1 deficit to win the franchise's first championship.
"This year is a totally different year, different group, different journey," Curry said.
The biggest difference is the addition of Durant, who left Oklahoma City in the offseason to sign with Golden State.
His presence has given the Warriors a deep and talented roster headlined by four All-Stars in Durant, Curry, Klay Thompson and Draymond Green. But Spurs coach Gregg Popovich said to credit talent as the sole reason behind Golden State's current run is disrespectful.
"They're really talented, but that's not everything that describes them," Popovich said. "This is maybe the best defensive team in the league on top of everything. So, they don't just play with talent. They execute at the defensive end of the floor. On offense, no team is more unselfish finding the open man and that sort of thing."
The Warriors have shown their strength by blasting through the playoffs in the normally rugged West.
Golden State is shooting 50 percent from the field while averaging 118.3 points in 12 playoff games. As good as the offense has been, it's been the Warriors' defense that has been key to their playoff dominance. Golden State held San Antonio, Utah and Portland to 102 points and averaged 9.2 steals per game.
"I think our defensive intensity has been amazing," Green said. "Overall, I think we've done a great job locking in on the defensive side, scrambling around, trying to take away team's No. 1 option. That doesn't necessarily mean the player, just trying to make them go to a second or third option in the set and also trying to cover that. I think we've been doing a great job of that."
The addition of David West and Matt Barnes has given the Warriors two more defensive-minded players off the bench to go along with Andre Iguodala and JaVale McGee.
Still, Golden State coach Mike Brown knows better execution is critical in the finals.
"We feel like we can play better," said Brown, who is filling in on the sideline for an injured Steve Kerr. "To get to our ultimate goal of winning the whole thing, we've got to be better on both ends of the floor."
As a 23-year-old playing with the Thunder. Durant learned a heightened effort is needed in the Finals. Oklahoma City celebrated advancing to the 2012 Finals only to be steamrolled by Miami in five games.
Experience has taught Durant that winning the West is no reason to relax or celebrate.
"Yea, it's a little different, definitely. I can't lie," Durant said. "I went when I was 23-years-old, and it felt like the Western Conference Finals was almost like the championship. Just getting to that point, you know how hard it is and how much work you put in to start the season. So, it's a little different now, obviously.
"I feel like we could definitely be better."