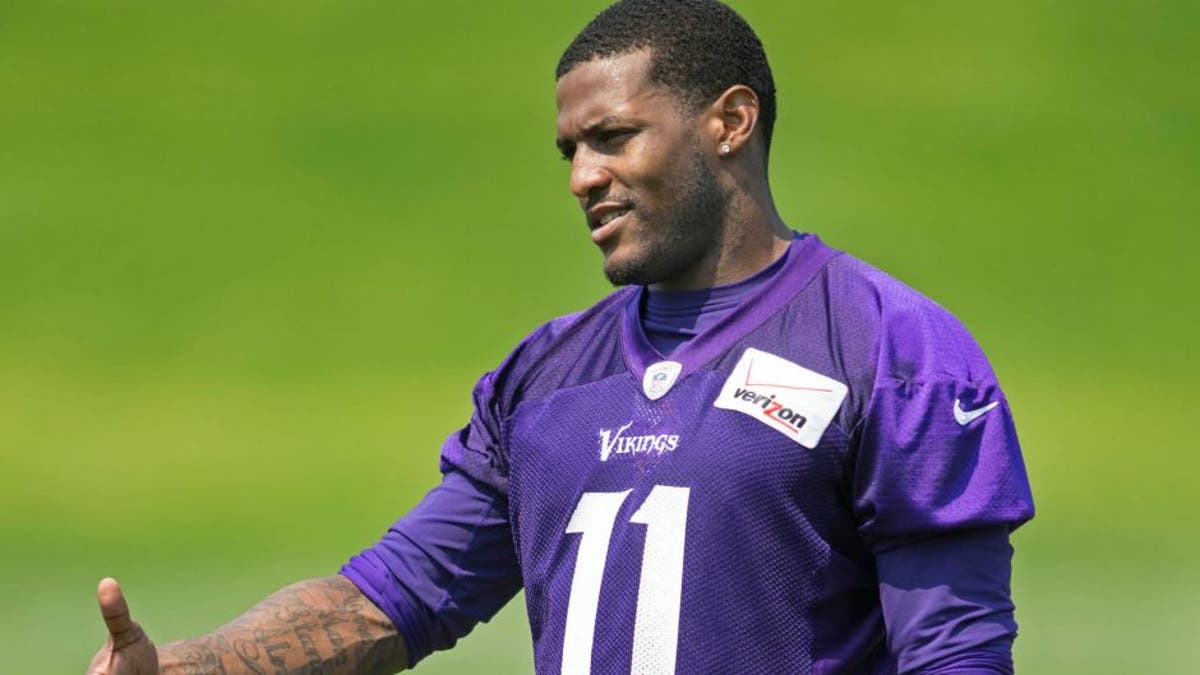 MANKATO, Minn. -- The Minnesota Vikings acquired Mike Wallace for his speed and his experience at the wide receiver position.
He came to training camp with more than that.
"I've got to take some things from Miami that I don't think I did as well and just try to bring it here and be a better person and a better player. Just lead more," Wallace said. "I think I did a good job of leading by example on the field, but there's some things I could've" done better.
Though the Dolphins dealt with many issues beyond Wallace, his time there was largely unfulfilling and uncomfortable. The most obvious problem was that he had trouble connecting with quarterback Ryan Tannehill on the deep passes he was being paid so highly for.
One of the fastest players in the NFL was tied for 42nd in the league in 2013 with 11 receptions of 20-plus yards and tied for 47th in 2014 with a mere 10.
The five-year deal that Wallace signed for $30 million guaranteed after four seasons with Pittsburgh that were productive at least and outstanding at times, looked like an albatross.
The Dolphins found a trade partner in the Vikings, who sent a fifth-round draft pick in exchange for Wallace, his huge contract and a seventh-round selection.
Every story has more than one side, but whether Wallace refused to re-enter Miami's last game last season or whether he was told by the coaching staff to stay on the sideline is ultimately irrelevant.
He didn't acclimate well, whether that was his fault or not, so he's carrying some useful lessons with him from his time with the Dolphins. This season with the Vikings will clearly be a defining part of his career.
"I think you've got to embrace people a little bit more," Wallace said. "I think I did that in Miami, but even more so. This is my seventh year. We have a young room. I have to be a leader. I know it. My coaches know it and my teammates know it, so I'm going to do my best."
The Vikings have been lacking a true, consistent deep threat for the past decade since trading Randy Moss. Troy Williamson. Bernard Berrian. Jerome Simpson.
None of them worked out, for a variety of reasons. Now, with Charles Johnson's emergence last season after Minnesota plucked him off the practice squad of the Cleveland Browns, quarterback Teddy Bridgewater should have a couple of options for stretching the field.
Wallace spent a week with Bridgewater in Miami this summer working out and playing catch, trying to continue to build their chemistry after spring practices.
"The best part about that is you're the coach. You tell the guys how you want a route to be ran so the communication is intact," Bridgewater said.
"Mike may tell me, `Hey, I'm going to do this at the top of my route.' So now I know to look for this when he's about to break on an in-cut route or an out-cut route. There are a lot of benefits."
Two days of training camp is a small sample size, but Wallace has already been one of the early eye-catchers in practice with his attitude and his hustle. He's been fully diving for low throws, berating himself for mistakes and constructively criticizing young players when merited.
"I watched him the other day getting after somebody who wasn't acting like he should have, so that's good," coach Mike Zimmer said.
Wallace has been one of the last players off the field each day, too, after an extra dose of catching drills up close with the JUGS machine, a routine he's had for years.
"Sometimes you get a bad rep for certain things, but there's one thing nobody ever said and that's that I don't practice hard," Wallace said.
"Any coach I've ever had, you can ask them. I've always been that guy on the field. That's what I do. I'm just trying to get better. Like I said, I'm going to do my best to be a leader this year. I'm going to do a much better job in that department than I've been before. You learn things going on in your career."