Vikings need Kyle Rudolph to improve as a run-blocker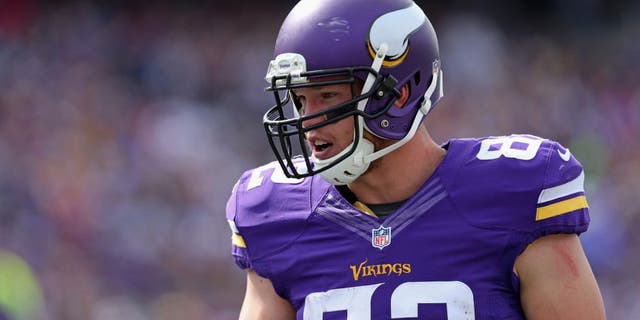 Minnesota Vikings tight end Kyle Rudolph is a dynamic receiver, but catching passes is only one dimension of his position. A well-rounded tight end is also a good run-blocker.
Vikings head coach Mike Zimmer recently talked about the impact a solid blocking tight end can have on the running game and how his tight ends need to show some improvement.
"We got to do better. We got to do better," Zimmer said, per Andrew Krammer of 1500ESPN.com. "A lot of times in the running game, a tight end is a key guy whether he's cutting off, at the point of attack or coming back to get somebody. Those are important, we have to do better."
Although Rudolph, 25, made the Pro Bowl in 2012 for his pass-catching ability, he recognizes run-blocking as an area of the game in which he must improve.
"If there's anything I need to improve on, it's definitely my run blocking," Rudolph said, via 1500ESPN.com. "That's just part of our mentality from coach Zimmer on down. He wants us to be able to run block and he reminds us of that often."
With Adrian Peterson making his comeback, the Vikings are expected to run the ball a lot in 2015. Rudolph and the Vikings' other tight ends must do their part to make sure the ground game is effective.
(h/t 1500ESPN.com)