Veteran teammate says Bears NT Goldman 'playing beyond his years'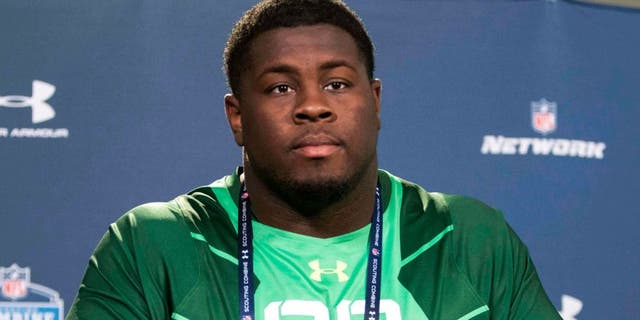 It didn't take long for Chicago Bears nose tackle Eddie Goldman to earn the respect of his teammates along the interior offensive line. On Tuesday, veteran guard Matt Slauson spoke about the 6-foot-4, 332-pound rookie and his impressive early progress.
"As a veteran offensive lineman, you get a rookie across from you and you can think, 'This is going to be great,'" Slauson said, per John Mullin of CSN Chicago. "But not with him, and I learned that really fast. He's got really good tools and I think he's going to be really, really good.
"Every time I've got to face him, whether it's in one-on-one's or in 'team,' the guy is just playing beyond his years."
With veteran defensive lineman Jeremiah Ratliff suspended for the first three games of the 2015 season, Goldman will likely start the season as Chicago's starting nose tackle. Working against Slauson, center Will Montgomery and guard Kyle Long in practice has helped him prepare for the challenge.
"When you put your hand down and the ball's about to snap, you have to have a plan going up against these guys," Goldman said, via CSN Chicago. "Because, I mean Slauson's been in the league about eight years and Kyle's a Pro Bowler. Will, he's been in the league for like 11 so you definitely have to have a plan and you have to be detailed with your technique as well."
Goldman, a 21-year-old second-round pick in this year's draft, will be put to the test right away this season. If he's successful from the start, he could anchor the Bears' defense for years to come.
(h/t CSN Chicago)