US volleyball vows to keep bikinis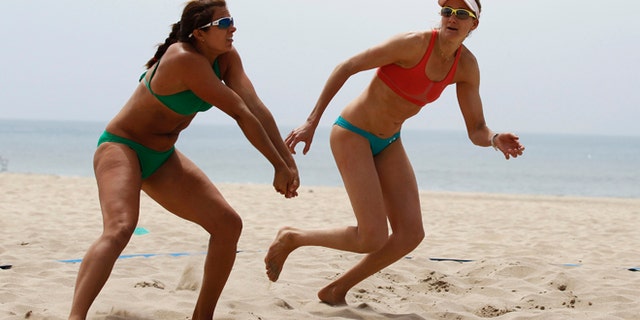 They're going to be the cheekiest gals in London this summer.
Olympian Misty May-Treanor and her fellow competitors on the US women's beach volleyball team vowed yesterday to keep wearing their sexy bikinis at the upcoming Games — despite a new rule that lets female players compete in dowdy shorts and T-shirts.
"We're not uncomfortable in our bikinis," said team member Jen Kessy.
"Growing up in southern California, that's what you wear from when you're a little kid to now in the summertime."
Treanor said she loves to compete in her skimpy, bottom-baring bikini because "what you see is what you get — there's no airbrushing."
"I grew up on the beach, grew up in a bikini," said May-Treanor, who has won two gold medals with her partner, Kerri Walsh.
Olympic officials changed the dress code for the racy sport — in which teams of two compete against each other — to soothe the concerns of nations where religion dictates that women wear more than skimpy swimsuits.