Upon further review: Wisconsin vs. Troy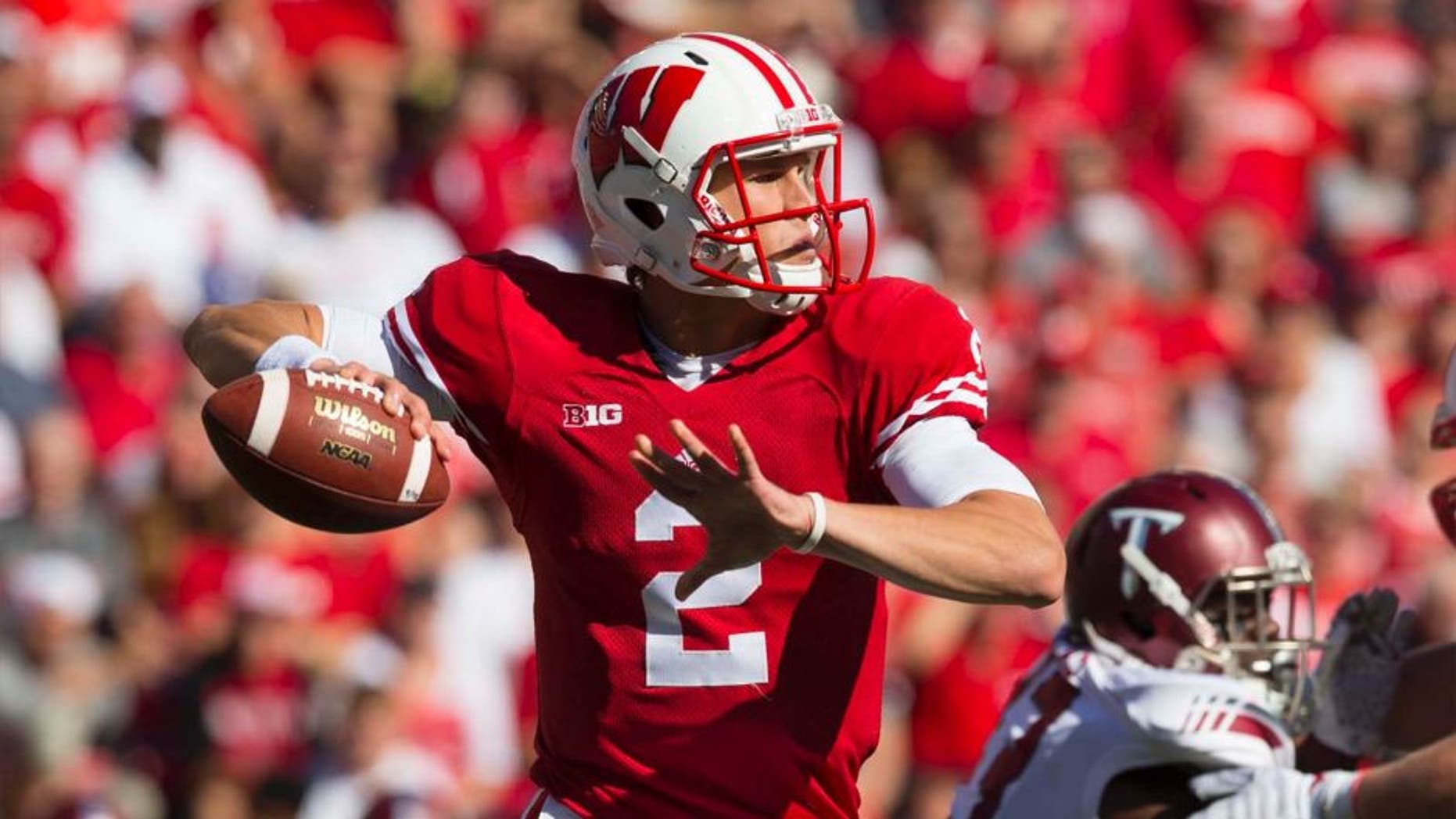 It wasn't a dominating performance, but Wisconsin once again showed it is a class above the also-rans among its college football brethren.
The Badgers had their moments, but led Troy just 14-3 at the half and needed a key turnover early in the third quarter to get and keep the momentum.
The defense was sterling again, having not allowed a touchdown to either nonconference opponent to visit Camp Randall Stadium. And UW was able to manage this despite having two defensive players thrown out of the game for what was ruled targeting a Trojans player.
A 28-3 win is nothing to dismiss, but it will be nice to see if Wisconsin can do it against more quality opponents. No fear, Big Ten season starts in two weeks.
Here's a review of the Week 3 win over Troy:
CLASS LESSONS
-- Jokes have been made about Paul Chryst being a "Quarterback Whisperer," but there's no doubt Joel Stave has played well and looked more confident each game. He threw only four incompletions against Troy, didn't throw a pick and now has six touchdowns compared to two interceptions on the season.
-- Wisconsin is still trying to figure out its right tackle situation. Hayden Biegel got the start but Jake Maxwell also saw action. And Ben Benzschawel, who was likely slated to be the starter before being sidelined by an injury, should be back soon, perhaps as early as next week.
-- The NCAA isn't messing around with this player safety thing. Both Leon Jacobs and Derrick Tindal were disqualified for targeting. Both calls appeared questionable in some fashion, but the replay official upheld both. Since Tindal's occurred in the second half, he'll also have to miss the first half of next week's game.
-- Replay did help the Badgers once as a play ruled a catch by Troy was reversed. The Trojans were preparing to go for it on 4th-and-1 from the Wisconsin 5 -- but after the pass was ruled incomplete, Troy elected to kick a 32-yard field goal, their only score of the game.
-- The Badgers continue to find ways for Tanner McEvoy to have an impact. He once again started at safety and wide receiver. He also lined up in the wildcat formation, running twice. He gained 9 yards the first time then broke free on the second for a 32-yard touchdown. Despite all his throwing problems, McEvoy was third in the nation last year in average yards per carry (8.83).
DULY NOTED
-- No Corey Clement again. The run game was improved, though, as both Dare Ogunbowale and Tawain Deal rushed for over five yards a carry. Still, Wisconsin could use a healthy bellcow.
-- With Walker Williams hurt, Micah Kapoi made his first collegiate start. He had to come out for a couple of plays when his shoe came off, replaced by Logan Schmidt.
-- Wisconsin hadn't had a reception of 30 yards in its first two games, but had three against Troy. It started with Rob Wheelwright's 30-yard catch in the first quarter. Austin Taylor (38 yards) and Alex Erickson (45 yards) also had long hauls.
-- Stave showed that McEvoy isn't the only QB who can run. He scored his second career rushing touchdown on a nice scramble as he escaped the pocket to the left.
-- Austin Traylor continues to improve in the passing game. He made a nice diving catch on a throw which started to tail away from him. Down at the 1, he then was on the receiving end of another Stave pass on the next play for a TD. He wasn't covered either time. Teams might want to start paying attention.
-- Troy was without its field-goal kicker and long snapper, both suspended for violating team rules.
WHAT IT MEANT
Well, Wisconsin continues to have no problem with the JV portion of its schedule. The Badgers didn't exactly look great doing it, but at least several young players got some more valuable playing time. Perhaps that will pay dividends down the road in Big Ten play.
PLAYER OF THE GAME
Chris Orr wasn't expected to play a lot of snaps, but when Jacobs was disqualified Orr stepped into the inside linebacker role -- and into the spotlight. He finished with a game-high 14 tackles plus a tackle-for-loss and a pass broken up.
DON'T FORGET ABOUT ME
Taiwan Deal is slowly turning himself into a dependable backup running back. After rushing for just 59 yards on 20 carries in the first two games, Deal showed a bit more patience in finding holes and finished with 84 yards on 13 carries, a 5.2 average.
THAT MOMENT
Down 14-3, Troy started with the ball to open the half and promptly drove down the field. But Joe Schobert got to quarterback Brandon Silvers, stripping him of the football with Michael Caputo recovering. That not only killed the Trojans' momentum -- not to mention the chance to make it a one-score game -- but also Wisconsin then went down for a score of its own.
THIS NUMBER
195.69. Joel Stave's passer rating against Troy, easily his best of the season thus far. The high rating was spurred by some longer passes (finally) and an 11.2 yards per attempt average.
THEY SAID IT
"I feel very comfortable w/ coach Chryst. I really like the way he calls a game. He's got a tremendous feel for the passing game. It's really shown in these first three weeks." -- Wisconsin quarterback Joel Stave
"If there would not have been contact to the head or neck area, we would have reversed both scenarios." -- referee Jeffrey Servinski (via pool reporter)
"Two ejections, which I've never seen before, a fire alarm. Yeah, it was a strange afternoon." -- Stave, via the Associated Press
WHAT'S NEXT
Wisconsin plays at 7 p.m. next Saturday at Camp Randall Stadium against Hawaii. The Warriors had a controversial ending in a win over Colorado in their opener then couldn't get much going offensively against Ohio State in their second game. Like the Badgers' previous two nonconference opponents, Hawaii comes to Madison having played an FCS team the previous week.