Upon further review: Vikings at Bears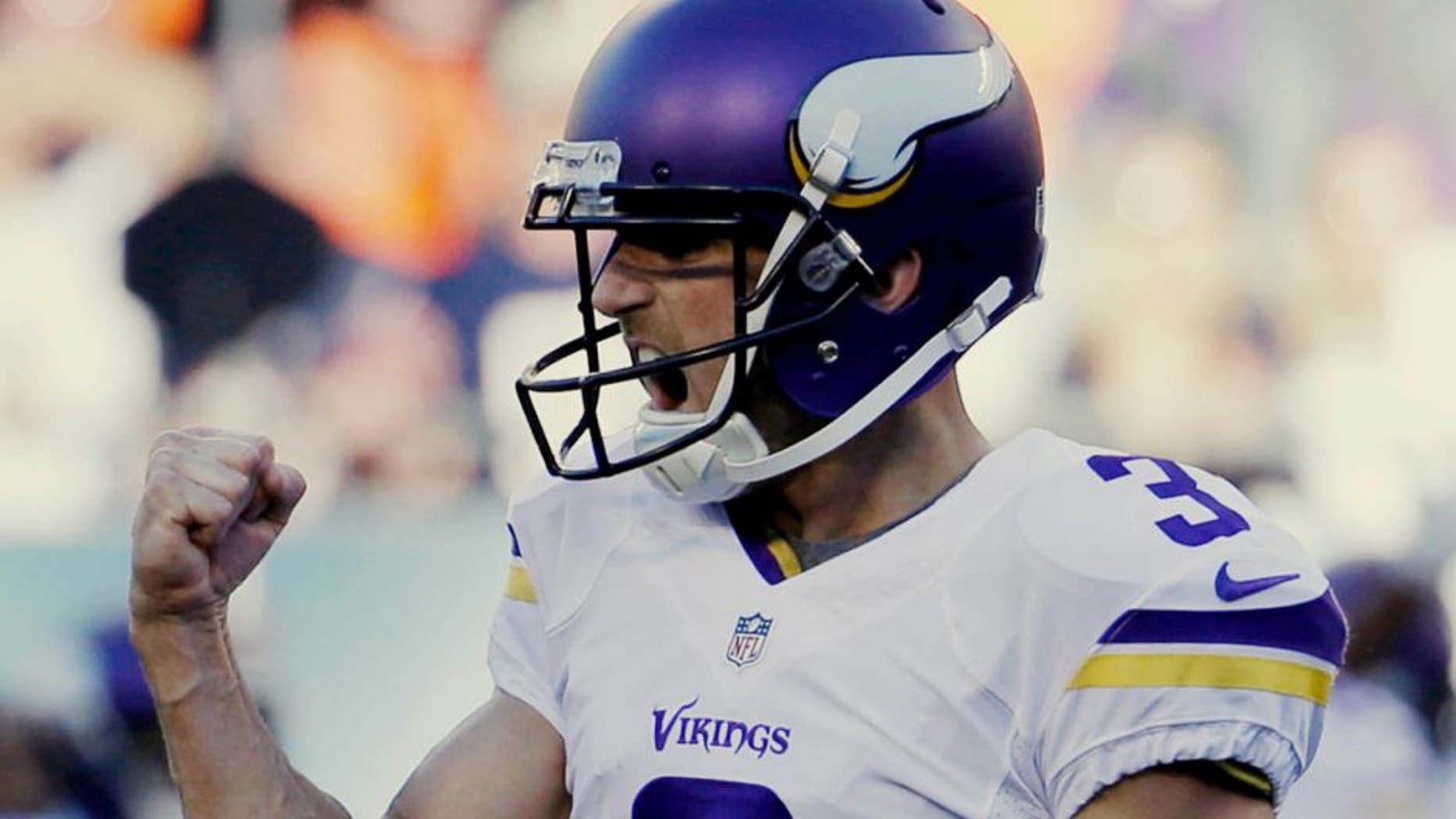 All appeared lost for the Vikings late Sunday afternoon, as Bears QB Jay Cutler rammed in for a touchdown run with 4:55 remaining, handing his squad a 20-13 advantage.
Then, however, Minnesota's struggling receiving corps suddenly flipped the switch, and caught on quick. Stefon Diggs and Charles Johnson both hauled in key, lengthy receptions late, helping the Vikings pull a 23-20 win from the fire.
For a large chunk of the fourth quarter, the game seemed destined to be a Vikings loss to a fairly disinterested Bears squad. Instead, it ended up as Minnesota's first win in Chicago since 2007.
The Vikings' record very nearly fell to 4-3. Instead, they woke up Monday morning at 5-2, with two road wins already under their belt in 2015. Everything's a fine line in the NFL, isn't it?
Here's a recap of Sunday's airtight divisional duel:
SUNDAY SCHOOL
-- Adrian Peterson reminded everyone of his value in this Vikings win. The 30-year-old running back had slogged through a few so-so outings since his 126-yard, two-touchdown game against San Diego on Sept. 27. On Sunday, though, Peterson was as consistent as ever, churning out 103 valuable yards on 20 carries. His long run was just 12 yards on the day, but Peterson nevertheless pinballed through the Bears' defense impressively, carrying his club's offense for most of the day.
-- Stefon Diggs continued to spark his club. Diggs was bottled up much of the afternoon, and looked a bit hobbled late. Yet, the rookie receiver still ended up with his fingerprints all over this Vikings win, ending with six catches for 95 yards on 12 targets. Of course, his biggest play of the day was his 40-yard touchdown to tie the score at 20-all, with 1:49 remaining, on a third-and-4 play. The fifth-round draft pick from Maryland now has 419 receiving yards through his first four NFL games -- only Anquan Boldin (464 yards in 2003) started better since 1960.
-- Teddy Bridgewater remains inconsistent. Minnesota's second-year quarterback finished Sunday 17 for 30 for 187 yards passing (he also had a 19-yard run late), one touchdown and one interception. His completion percentage (56.7) and passer rating (72.5) were pedestrian. Yet, the 22-year-old Louisville product passed for 146 yards after halftime and made multiple long connections late. It wasn't a Picasso, but perhaps Bridgewater will glean confidence from Sunday's comeback win.
-- The Vikings exorcised a demon with this win. Entering Sunday, the Bears had beaten the Vikings in 13 out of their last 14 matchups played on Chicago's home turf. The Bears had also won seven straight matchups against the Vikings at Soldier Field. But now that ugly skid is in the rearview mirror for the purple and gold, though they remain just 3-14-1 over their last 18 road games in NFC North play. The next divisional road game could be a big one: at Green Bay, in Week 17.
DULY NOTED
--The Vikings' defense features multiple feared tacklers this season. In an old "Black-and-Blue Division" matchup, Minnesota's defense played physically Sunday. Players like Eric Kendricks (seven tackles), Harrison Smith (seven tackles) and even 37-year-old Terence Newman (eight tackles) led the way, displaying stellar open-field tackling.
-- Minnesota apparently dodged a pair of bullets with regard to injuries. The Vikings saw a pair of key players exit Sunday's game in the second half due to injury: defensive end Everson Griffen and offensive tackle T.J. Clemmings. Preliminary reports after the game indicated both players had simply endured "stingers," however.
-- The often-criticized Blair Walsh had a rock-solid day in Chicago. The fourth-year Vikings kicker went 3 for 3 on field-goal attempts, making both of his tries from beyond 40 yards. He also connected on both extra-point attempts.
-- Chicago's Alshon Jeffery is supremely talented. The 25-year-old receiver pulled down 10 receptions for 116 yards and one jaw-dropping, back-of-the-end-zone score against the Vikings. The 6-foot-3 wideout often looked like Pau Gasol boxing out point guards, as he used his large frame to snare passes that opposing defenders like the 5-10 Terence Newman simply couldn't reach.
WHAT IT MEANT
A loss to the underachieving Bears would've severely harmed the Vikings' playoff chances. But this game seemed all but lost when Chicago took a late, seven-point lead, so Minnesota's dramatic comeback may end up proving to be a key point in the season. Perhaps Zimmer's squad can use this win as a springboard to big things the rest of the way.
PLAYER OF THE GAME
Adrian Peterson was Mr. Consistent in Chicago, but Stefon Diggs seemed to truly bring Minnesota's offense to life in the fourth quarter. Diggs, who had six catches Sunday and now has 25 on the season, rebounded from a sluggish first half to make an impact. If Diggs continues his ascension -- and if Charles Johnson can re-emerge -- Minnesota's aerial attack could prove formidable in the weeks ahead.
DON'T FORGET ABOUT ME
It's easy to forget about steady return man Marcus Sherels, but he made his presence felt in Sunday's first quarter. At the 3:37 mark of that quarter, the 28-year-old Rochester native uncorked a 65-yard punt return score that, due to some shaky Bears coverage, looked stunningly easy. It was the third career touchdown return for Sherels as a punt returner.
THAT MOMENT
The game was literally up for grabs until, with 27 seconds left, Charles Johnson re-introduced himself to the Vikings faithful. At that juncture, the 26-year-old, 6-2 receiver outjumped Chicago's Antrel Rolle for a crucial, 35-yard reception. A couple plays later, Walsh hammered a 36-yard, game-winning field goal for the visitors.
THIS NUMBER
5.9. The Vikings' yards per rush against the Bears. Along with Peterson (103 yards), Bridgewater (two carries, 21 yards) and Jerick McKinnon (two carries, 18 yards) did just enough to help prod Minnesota to victory.
THEY SAID IT
". . . Our offense, man, they pulled one out there. Teddy did a great job driving the ball down the field." -- Walsh
"I'm sure there were a lot of things (Bridgewater) wished he could have done better. . . . But when it counted the most he came through, made big plays." -- Peterson
"I think (the win) is a huge milestone." -- Bridgewater
WHAT'S NEXT
Minnesota hosts St. Louis at TCF Bank Stadium next Sunday at noon. The Rams knocked off San Francisco 27-6 on Sunday to improve to 4-3. .
Follow Kelly Beaton on Twitter