UEFA general secretary Infantino will stand for FIFA presidency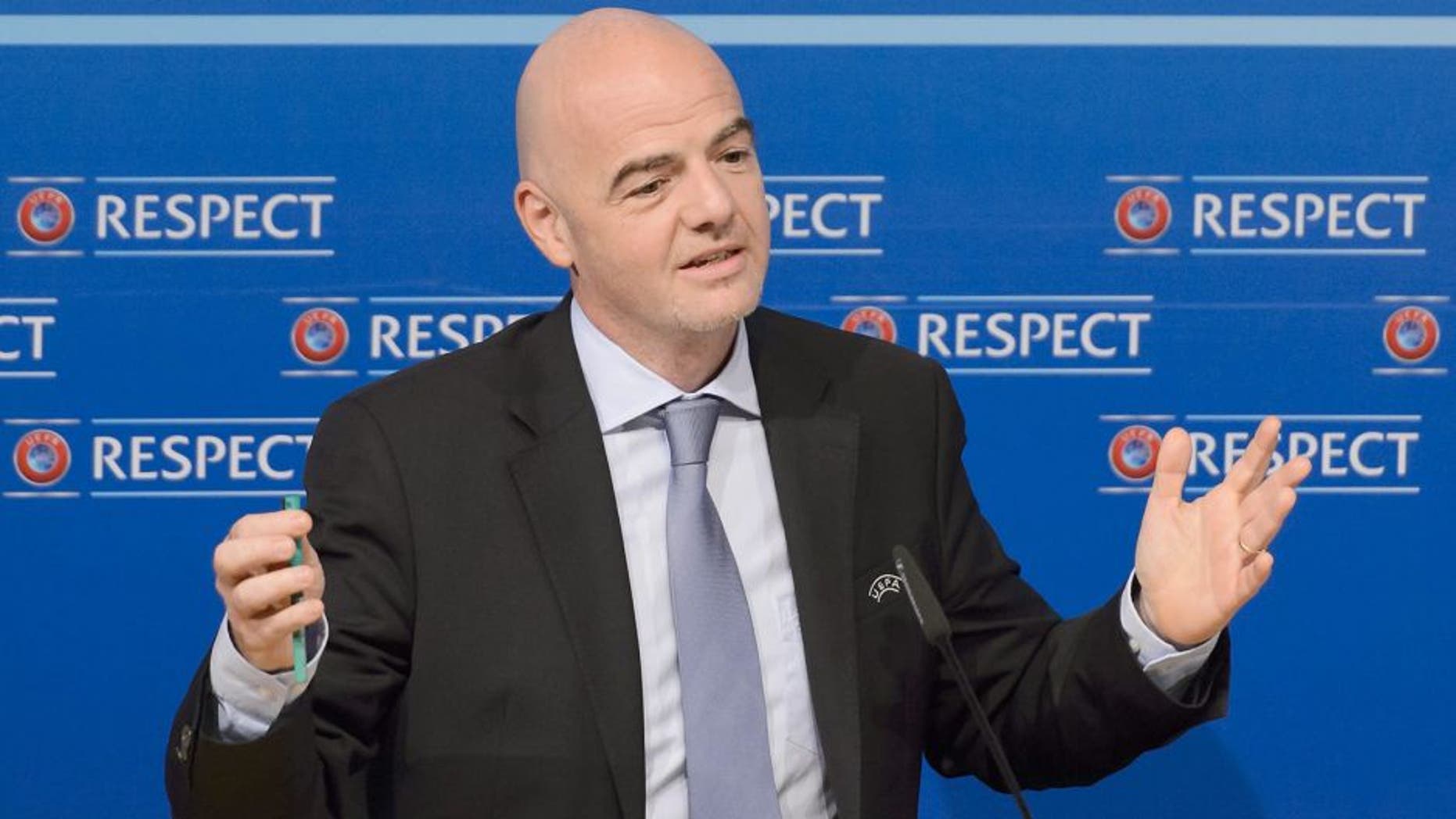 UEFA's general secretary Gianni Infantino will stand for the FIFA presidency, it has been announced.
Infantino - Michel Platini's right-hand man for the last six years - has received the unanimous backing of UEFA's executive committee.
Platini has also submitted his candidacy for the election but is currently banned for 90 days pending a disciplinary hearing into a £1.3million payment signed off by outgoing president Sepp Blatter in 2011.
An emergency meeting of UEFA's executive committee took place via teleconference on Monday morning. Infantino, who is understood to have held talks with senior figures in the Asian confederation about standing, could step down if Platini is cleared of all charges, but otherwise would be a strong candidate in his own right.
A statement from UEFA's executive committee said: "The forthcoming election for a new FIFA president represents a crucial moment in the governance of the game and the future of FIFA itself. We believe that Gianni Infantino has all of the qualities required to tackle the major challenges ahead and to lead the organisation on a path of reform to restore FIFA's integrity and credibility.
Infantino is a Swiss lawyer who has worked for UEFA since 2000, becoming its head of legal affairs in 2004.
The UEFA statement added: "Gianni has done a great job at UEFA, has a proven track record as a top class administrator and built positive relations with football stakeholders around the globe. He has been a long-time advocate of the need for change and renewed development at FIFA and would bring a refreshing and informed voice to the top table of football's world governing body.
"We are delighted that Gianni has agreed to stand and he knows that he has our full support in his campaign to become FIFA president. He is in the process of submitting the required nominations and will issue a statement on his candidacy later today."
The deadline for nominations for the February 26 election is midnight on Monday, Swiss time.
Other candidates who have submitted their candidacies are Prince Ali Bin Al Hussein of Jordan, former Trinidad and Tobago player David Nakhid, former FIFA deputy general secretary Jerome Champagne, and Liberian FA president Musa Bility.
South Africa's Tokyo Sexwale, a former anti-apartheid activist who was imprisoned on Robben Island with Nelson Mandela, has also announced his candidacy but there appears to be uncertainty over whether he has secured the five nominations necessary.
Asian football's leader Sheikh Salman bin Ebrahim al Khalifa may also enter the race - the official Bahrain news agency reported on Sunday that he would do so but has since removed the report from its website.
Sheikh Salman, who is from Bahrain, is very influential in football - he commands widespread support in Asia and is a close ally of Olympic powerbroker Sheikh Ahmad Al-Fahad Al-Sabah from Kuwait.
A member of the Bahrain royal family, he has attracted opposition from human rights organisations due to the regime's role in the suppression of the country's pro-democracy demonstrations in 2011.
Meanwhile, Korea's former FIFA vice-president Chung Mong-Joon has officially withdrawn following his six-year ban imposed by FIFA's ethics committee.
He said on his blog: "Because of the Ethics Committee's unjust sanctions, I will have to miss the October 26 deadline to file my candidacy. It is now time to officially withdraw my candidacy for the next FIFA president. Even though I cannot run in this election, I believe there is still much that I can do. As someone who loves football, I will continue to speak out frankly about FIFA's problems."
More to follow...