U.S. Crushes Guatemala 6-0; Donovan Scores 2 Goals In Return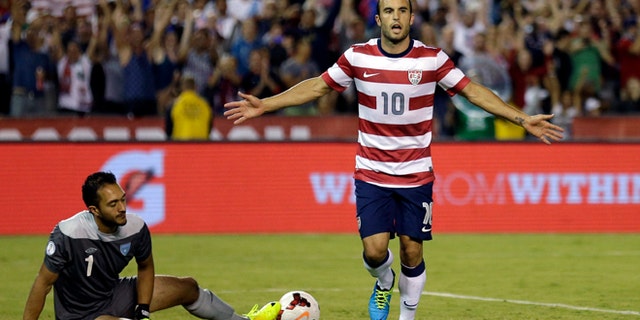 San Diego – Making an impressive return to international soccer, Landon Donovan scored two goals and helped the United States defeat Guatemala 6-0 Friday night in a friendly match preceding the 2013 CONCACAF Gold Cup.
Donovan had several dynamic moments in his first U.S. match since Aug. 15, 2012, which he played on the right wing and as an attacking midfielder. He took nearly five months off from soccer, and the American face of the sport wasn't included on the U.S. roster for June's World Cup qualifiers.
U.S. Coach Jurgen Klinsmann added him for the Gold Cup, soccer's regional championship of North and Central America and the Caribbean that is played every two years.
"We're happy that Landon picked up his rhythm and is part of the group again," Klinsmann said. "Goals certainly help. For any offensive player, that's the best recipe."
Donovan scored his 50th international goal, extending his American record, on a penalty kick in the 55th minute to put the Americans up 2-0. His 51st came in the 74th minute on an assist from Stuart Holden.
"This was a good way to take the pressure off and enjoy what I'm doing," Donovan said. "It certainly helps to hit the net."
Donovan has played 13 games for the Los Angeles Galaxy as he comes back from his layoff and believes he's returning to form.
Reaching the 50-goal milestone gave him a boost.
"That was really nice," Donovan said. "I was appreciative to be able to have an opportunity to score tonight, especially one that wasn't a penalty. Getting to 50 and beyond means a lot, but results are most important. We certainly got a good one tonight."
The United States controlled possession throughout, but the American attack improved when Donovan moved from the right flank to forward after Klinsmann reverted to a 4-4-2.
Herculez Gomez opened the scoring with his sixth national-team goal in the 42nd minute.
"Herc's goal really opened things up," Donovan said. "It allowed the offense to operate with greater space. It really changed the game."
It opened the floodgates.
Chris Wondolowski, Clarence Goodson and Alejandro Bedoya also scored in a five-goal second half.
There were points where the Americans looked disjointed, but Klinsmann is confident his team will improve during Gold Cup play.
"This group hasn't trained together much, so we need to adjust to each other and build chemistry," Klinsmann said. "It's not so fluid right now, and the guys know that. We'll keep working and keep training with the goal of peaking towards the end of the tournament."
The six goals were the Americans' largest total since June 15, 2008, when the scored eight against Barbados.
Based on reporting by The Associated Press.
Follow us on twitter.com/foxnewslatino
Like us at facebook.com/foxnewslatino