Trump says NFL's anthem protesters should face repercussions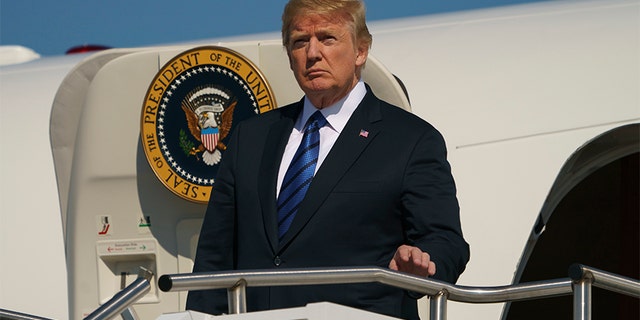 President Donald Trump on Friday reignited his criticism of NFL players who protest during the national anthem, saying the "debate" over "The Star-Spangled Banner" was once again "alive and well," while offering up some suggestions on possible punishments for protests.
"The NFL National Anthem Debate is alive and well again - can't believe it! Isn't it in contract that players must stand at attention, hand on heart?" Trump tweeted.
He then proposed incremental repercussions to level at protesting players. "First time kneeling, out for game. Second time kneeling, out for season/no pay!" the president suggested.
Trump's tweet came a day after the NFL and its players union issued a joint statement announcing that enforcement of the league's recently imposed national anthem policy would be put on hold while the two sides worked on "finding a solution."
NFL PUTTING ANTHEM POLICY ON HOLD DURING TALKS WITH PLAYERS ASSOCIATION
In May, the NFL adopted a policy that stated it would penalize teams and league personnel who do not "stand and show respect for the flag and the Anthem" while on the field.
A statement at the time from league Commissioner Roger Goodell said the new policy withdrew the requirement for players to stand on the field during the song and anyone who decided "not to stand for the Anthem" could remain in the locker room until its conclusion.
"A club will be fined by the League if its personnel are on the field and do not stand and show respect for the flag and the Anthem," the statement said. "The Commissioner will impose appropriate discipline on league personnel who do not stand and show respect for the flag and the Anthem."
Since then, the NFL Players Association filed a grievance against the league over the policy, arguing that it infringed on the athletes' rights.
MIAMI DOLPHINS PLAYERS WHO STAGE ANTHEM PROTESTS COULD FACE GAME SUSPENSIONS, REPORT SAYS
The league and the players association have been attempting to come to an agreement regarding the national anthem, Thursday's statement said.
"In order to allow this constructive dialogue to continue, we have come to a standstill agreement on the NFLPA's grievance and on the NFL's anthem policy," the statement continued. "No new rules relating to the anthem will be issued or enforced for the next several weeks while these confidential discussions are ongoing."
The statement from the NFL and the NFLPA followed a Thursday report from the Associated Press that said the Miami Dolphins had issued a team policy that added anthem protests to a list of behaviors considered "detrimental to the club," all of which could lead to a paid or unpaid suspension, a fine or both.
Fox News' Samuel Chamberlain, Kathleen Joyce, Paulina Dedaj and the Associated Press contributed to this report.