Trading Pau Gasol Won't Solve Issues In Lakers Land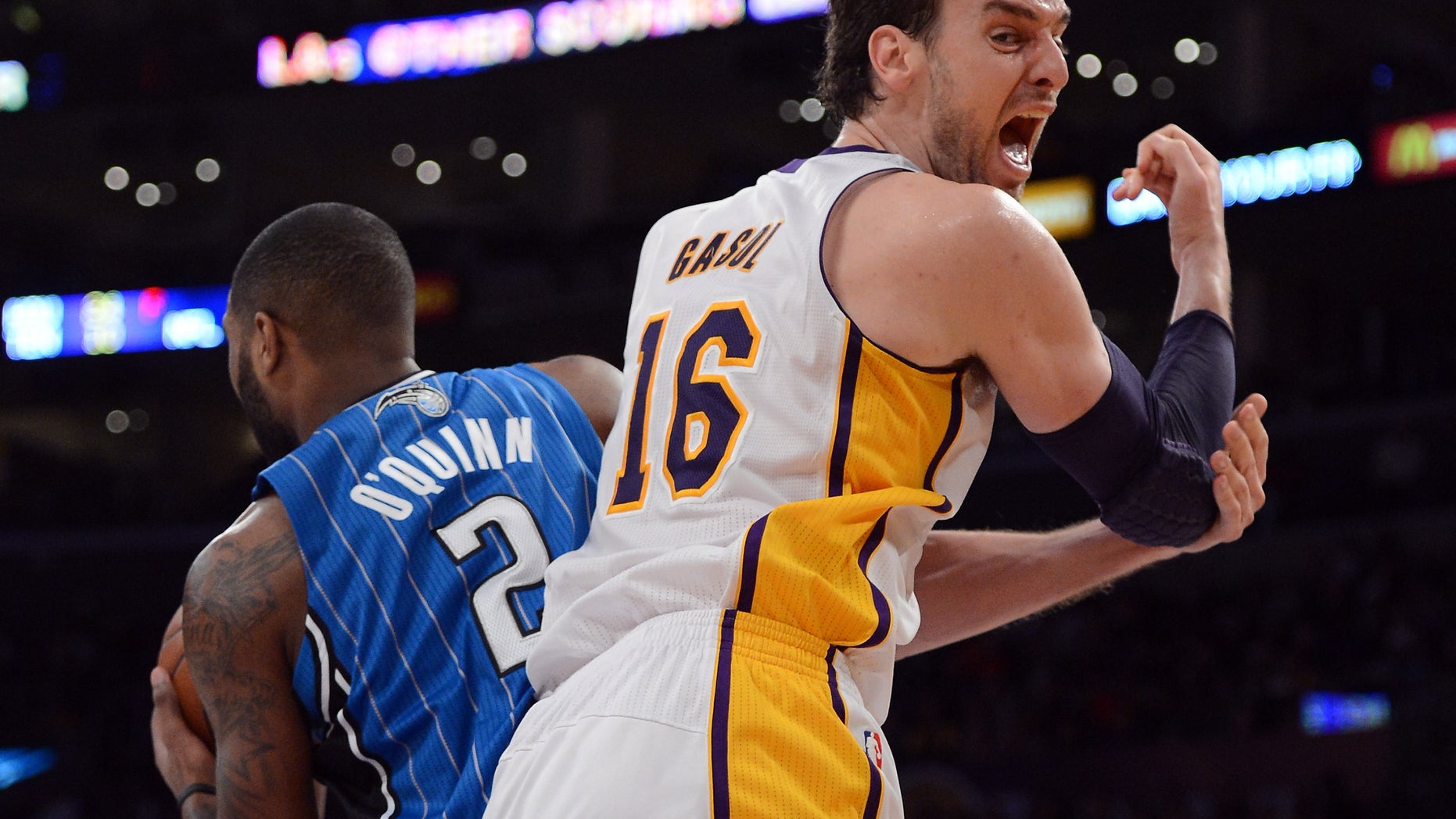 There's been a myriad of reasons why the Los Angeles Lakers are in the current state they've dug themselves into as a quarter of the NBA season has gone by already.
Pressure to win right away, a mandate coupled with unexpected coaching changes and injuries have delayed this group of from really taking off. This current brand of the Lakers were bad defensively with Mike Brown and have been just as bad since Mike D'Antoni took over. While Dwight Howard was brought in to anchor that defense, it's pretty obvious that he's not the same defensive player of the year we've witness in the past as he recovers from undergoing back surgery eight months ago.
Loses have mounted on lately. We saw the Lakers drop four straight before winning at Washington on Friday night. In the middle of all the losing the blame again shifted to a player that helped the Lakers win two championships since his arrival in Los Angeles.
A lot of Lakers fans now think Pau Gasol's time in Los Angeles is officially up and many inside the organization are thinking the same way too. It was probably summed up when D'Antoni benched Gasol for the entire fourth quarter during at Memphis on Nov. 23. As Magic Johnson recently pointed out earlier, D'Antoni has misused Gasol, one of the best passing bigs and overall post players in the league. It's really unfair to say the Lakers' issues will be fixed once the All-Star Spaniard is sent out of town and it's foolish to entertain such talk.
There's one team that could help the Lakers and that's the Atlanta Hawks who could be a trading partner if they decide on parting ways with the talented Josh Smith.
As one NBA team scout told Fox News Latino, the real problem with the Lakers is that they are a team that is not athletic enough to prosper in D'Antoni's run-and-gun offense. It's an old team that's being asked to run the court at fullspeed when in reality it's more suited to thrive in the half-court system. It could work with Russell Westbrook and Kevin Durant but we're talking about a team that is really just old.
When healthy the Howard-Gasol tandem in the post is one of the best in the league and an advantage over a lot of teams. Trading Gasol would be a big mistake.
"You're talking about two 7-footers basically. One can face up. They can run the high-low for each other because Pau is good passer," the scout said under the condition of anonymity.
"He hasn't played. He's missed a lot of games. I don't think they have the defensive mentality.
Steve Nash's return is going to help the offense flow while making sure Gasol, Howard and Kobe Bryant get easier touches. But it won't compensate for the real problem at the end of the day which all comes down to the defensive effort put forth on a consistent basis and a coach that refuses to change his offensive philosophy.
Sometimes the worst decisions that you make are the ones done just to please people. Jim Buss had his way and didn't bring Phil Jackson back. Instead he hired D'Antoni who rather have an aging team run up and down the court when he should instead scale it back.
D'Antoni has proven that he's been great at directing his offense. We saw how awfully good his teams were in Phoenix. He's committed himself to being good at it all these years. It's time he commits to really preaching defense and not for 30 minutes like he said the other night.
Like the great saying goes, you can't teach an old dog new tricks but with D'Antoni, the time has come when he has to accept that fact that it's he that has to adapt to his players and not the players to his speedball system.
And while he's at it make sure you keep Gasol too.