Top 10 Latino Soccer Stories of 2011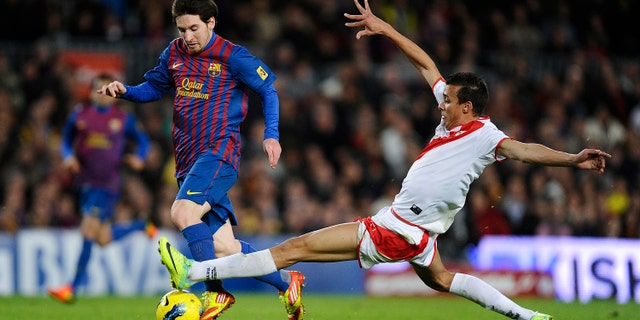 Presenting the top 10 Latino soccer stories of 2011:

1. A Messi-anic Existence in Barcelona

Led by the marvelous Lionel Messi, Barcelona won the two most important club titles on the planet -- the UEFA Champions League and the FIFA Club World Cup. And it wasn't that Barca was able to lift the respective trophies, it was the way it was obtained and against quality opposition. The La Liga powerhouse bested a damn good Manchester United side in the European championship and then put on a clinic against South American champion Santos and a budding Neymar for the world club title, a 4-0 win. Barca plays the game the way it should be played -- with grace, beauty, passion, unselfishness, skill and plenty of goals.

2. The Kings of South America

As South America got into the heart of World Cup qualifying, Uruguay was considered the team to beat. After all, the Uruguayans earned the Copa American crown with a marvelous and emphatic 3-0 triumph over Paraguay in the final in Argentina on July 24. There is no doubt La Celeste is the best of South America. The Uruguayans play with some flair, spark and style behind the sublime Diego Forlán and Luis Suárez. They also like to show they still have some bite to let the opposition know there is a defending team on the field.

3. Mexico's Near Grand Slam

The present and future looks great for the Mexicans. El Tri, which had major problems winning on American soil for nearly 10 years, has won two straight over their arch-rivals, the United States. They overcame a 2-1 first-half deficit and a potential FIFA goal of the year (Giovani dos Santos' fourth and final goal for Mexico) en route to a 4-2 victory over the host U.S. in the CONCACAF Gold Cup final at the Rose Bowl in Pasadena, Calif. Mexico also captured the U-17 title with a 2-0 win over Uruguay. Even though its U-20 team did not fare as well in the FIFA U-20 World Cup, finishing third in the FIFA U-20 World Cup, the Mexicans are in a position to dominate CONCACAF for the next five-10 years. On the club level, Monterrey captured the CONCACAF Champions League. After playing to a 2-2 draw in the first leg at home, the Mexican club defeated host Real Salt Lake, 1-0, on Humberto Suazo's goal on April 27, Monterrey captured the series, 3-2, snapping RSL's 37-game home unbeaten streak. Monterrey went on to represent CONCACAF at the FIFA Club World Cup, finishing fifth.

4. The Little Pea Makes a Big Splash

After a slow start with his new team last year, Chicharito became the revelation of Manchester United in 2011. Javier Hernández began the season on the bench and slowly but surely earned his way into the starting lineup with several vital second-half goals that turned losses into draws and ties into wins. The Mexican international helped United make it to the English Premier League championship. He also played a key role in the Red Devils' march to the English F.A. Cup final and UEFA Champions League final. Chicharito also came up big for his home country besides his club as he found the back of the net seven times for Mexico, which captured the CONCACAF Gold Cup crown in June. Hernández was named the tournament's MVP and Golden Boot winner. "He's been nothing short of sensational," United manager Sir Alex Ferguson said. Everything was perfect until he suffered a concussion during a Man U practice prior to the MLS all-star game. Since then he hasn't played up to his potential as he sprained his ankle earlier this month.

5. He's No Saint Luis

Luis Suárez was involved in not one, but two incidents that resulted in suspensions in the English Premier League. The Liverpool star was slapped with an eight-match suspension after he was accused of racially abusing Manchester United's Patrice Evra in a 1-1 draw on Oct. 15. The Uruguayan, who was named one of the 23 finalists for the FIFA ballon d'Or, has appealed the ban. One suspension he did not appeal. That came from a Nov. 16 incident in which he was given a one-game ban by the English Football Association when he gave Fulham fans the finger at Craven Cottage on Dec. 5.

6. The Carlos Tévez Soap Opera

Like a bad penny, another story about this talented Argentine keeps popping up every day. On Sept. 27, manager Roberto Mancini wanted to use him as a substitute, but he refused to enter Manchester City's UEFA Champions League loss to Bayern Munich (Germany). Tévez denied it and called it a misunderstanding. Tévez was suspended with salary and is destined to be headed for another club. A.C. Milan (Italy), which originally wanted Tévez on loan, could wind up acquiring him on a permanent basis. To be continued. That's for sure.

7. Underachieving Favorites

Who would have thought? Who would have guessed that Brazil and Argentina both would be shown the door in the quarterfinals of Copa America? Coach Serigio Batista makes former coach Diego Maradona, who entertained the media during his post-match press conferences and confounded his country's supporters with some unusual tactics, look like a genius in reaching the quarterfinals of last year's World Cup in South Africa. Batista paid for it as he was fired after Copa. As for the Brazilians, they don't have to worry about qualifying for the World Cup because they will host the event in 2014. However, their underachieving performance sent their entire country into shock.

8. Venezuela on the Rise

For years the doormats of South America, Venezuela suddenly found itself in rarefied air in 2011. The Venezuelans, who never have reached the World Cup, took two giant steps toward respectability. They finished an encouraging fourth at the Copa America, losing to Paraguay in the third-place match, 4-1. And entering the new year, they have found themselves in third place in the confederation's World Cup qualifying race. They have as many points -- seven -- as Uruguay (2-0-1) and Argentina (2-1-1) but the Venezuelans (2-1-1) are in third due to the country's goal differential. But the qualifying round, which will run 16 games per team -- is young. If Venezuela can keep the pace in 2012, they will make some history.

9. A Tough Break
Barcelona striker David Villa broken his leg in a Club World Cup match against Al Sadd in Yokohoma. Given Barca's endless array of talent, it might not be the end of the world for the Spanish team. However, since Villa, one of keys Spain's World Cup championship run in 2010, will be sidelined for six months, it could be put a dent in Spain's quest to capture the European Championship this June.
10. The Real (Madrid) thing

Angel Di María, who scored the lone goal for Argentina in its 1-0 triumph over Nigeria in the gold medal match at the 2008 Beijing Summer Games, has blossomed into a vital part of Real Madrid's success in La Liga. He might not score many goals, but it seems that every time we turn around, he is setting up Cristiano Ronaldo or another teammate in another victory.
Michael Lewis, who has covered international soccer for more than three decades, can be reached at SoccerWriter516@aol.com.
Follow us on twitter.com/foxnewslatino
Like us at facebook.com/foxnewslatino