Tim Tebow and Mark Sanchez Stunned by New York Jets' Players Comments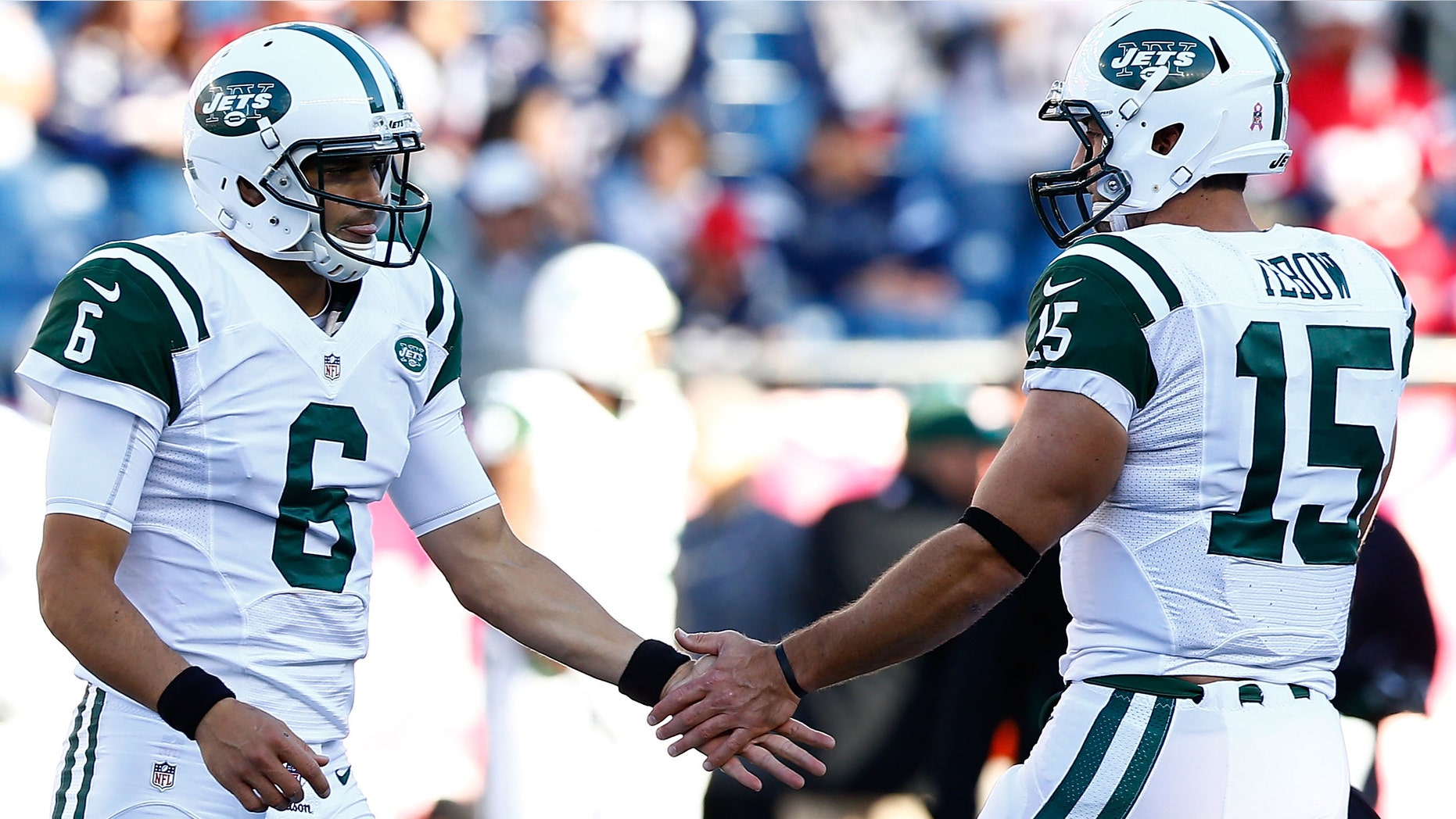 New York – After his ego took a beating from comments made by some of his teammates,Tim Tebow is hoping he and Mark Sanchez can unify the New York Jets.
After an article in the New York Daily News showed various players from the Jets' verbally attacking the team's backup quarterback, backlash quickly ensued.
The team's coach Rex Ryan met with the team on Wednesday asking who had made the "cowardly" comments.
And with no one willing to come clean, Tebow was left to add address the comments himself.
"I think there was some frustration and some sadness," a stunned Tebow told ESPN.
"It's never fun to hear criticism. At the same time, it's something I've always used as motivation. You try to get stronger from it."
While some of his teammates may not have his back, Tebow still supports the Jets' goals, even if it means having Sanchez as the starting quarterback.
"This team, in my opinion, is not going to be pulled apart by outside people," Tebow said.
Creating a symbol of unity with his hands, Tebow added "Inside the walls, we're going to be like this."
"I feel for Tim," Sanchez told ESPN. "That sucks, it just sucks. It can't feel good. But at the same time, I've been there. You wake up the next day and you keep playing."
This team...is not going to be pulled apart by outside people.
Despite the comments, Ryan remains optimistic that this could be a positive turning point for the team.
"I believe this team is coming together. If there are cracks in the armor, we'll find out," said the coach.
Aside from Sanchez, other players were quick to defend Tebow.
Safety Yeremiah Bell said that while the story is hurtful and trying "to kind of break this locker room up and make us turn against each other," he said that's not what the team is about.
"We all think that the source is not credible, we don't believe we have those types of guys in this locker room. It's just ridiculous to us."
One of the only players in the article revealed by named, Left guard Matt Slauson said he and Tebow had spoken since the article came out.
"We had our talk and it's all done," Slauson said adding,  "I love Tim. Great dude."
When asked about who should fill the quarterback role for the Jets, Slauson told the paper the choice was clear.
"I have all the confidence in Mark," said Slauson. "We don't really have a choice."
Also asked as to what he thinks of the team's two other quarterbacks, Tebow and Greg McElroy, Slauson's response was surprising.
"We have Greg . . . and we have an athlete," Slauson said.
In the revealing Daily News article, various players from the Jets verbally attacked the former Denver Broncos starting quarterback..
"He's terrible," a defensive starter said of Tebow.
With the team struggling with a 3-6 record, Jets' players are shifting the blame away from Sanchez, who has a league-low 52% completion rate, and instead putting the focus on the ongoing debate over who should be the team's starting quarterback.
According to an undisclosed Jet's player, "nobody" wants Tebow as the starting quarterback.
Even though coach Rex Ryan has publicly supported Sanchez, constant public scrutiny on the team's performance has caused some to question this decision.
While it is expected that Sanchez's teammates would defend their team's leader, their very critical reviews of Tebow seem to some as more personal than professional.
Referencing Tebow's comeback season last year as the quarterback for the Denver Broncos, one Jets' organization member made a religious quip at the highly publicized athlete.
"Now we're depending on miracles?" the member said. "You can't play that way."
Follow us on twitter.com/foxnewslatino
Like us at facebook.com/foxnewslatino