Tigers' iconic hot dog man canned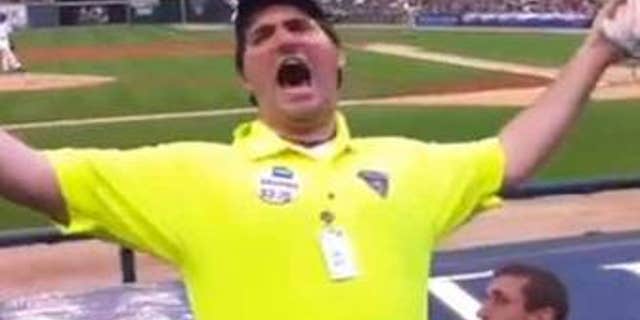 The fat lady has sung on Detroit's Singing Hot Dog man.
Charley Marcuse, known best for bellowing out his call for franks, posted on his Twitter account that he got canned on Friday.
After 15 years the @Tigers finally got what they've aways wanted: I was fired by @delawarenorth #Sportservice this morning. #LongLiveMustard
-- Singing Hot Dog Man (@SinginHotDogMan) September 6, 2013 In case you're not familiar with his shtick, watch this below:
Pretty artful, if you ask us. Marcuse had been working at Tiger Stadium since 1999 and garnered national attention in 2004 when the team banned him from singing, according to the Detroit Free Press .
Marcuse technically wasn't an employee of the Tigers, but rather worked for Detroit Sportservice, which released this testament last night:
"While it would be inappropriate to comment on specific confidential personnel action, in general Detroit Sportservice takes personnel action only after a complete and thorough review of an employee's performance, all in accordance with its personnel policies and applicable collective bargaining agreements. Sportservice prides itself on providing the highest level of guest service to enhance the guest experience at Comerica Park. We encourage our vendors to interact and provide an excellent experience for the fans and are proud of the great vendors who are serving fans throughout Comerica Park."
Based on this tweet, Marcuse must've believed someone had it out for him, especially since some fans complained his singing was a distraction. Later on Friday, Marcuse released a statement of his own:
"Since 1999, the final season played at Tiger Stadium, I have been selling hot dogs at Detroit Tigers games. What started as a part-time summer job quickly turned into a passion. For fifteen years I have tried to provide a unique, engaging, and fun experience for everyone. The vast majority of feedback and interactions have always been positive. Fans constantly tell me that I have added to their enjoyment of the ballgame. The Detroit Tigers and Sportservice, a Delaware North Company, see it differently. After so many years I am very sorry to see this day come.
"I am deeply thankful to the fans for their loyalty and support. It has been an amazing experience serving you for the past fifteen years. All of you are the reason I keep coming back. I hope to have the opportunity to serve you again in the future."
We wish Marcuse the best, whether he becomes the next Luciano Pavarotti or can just land a gig doing what he loves.