Tiger Woods is officially trolling us all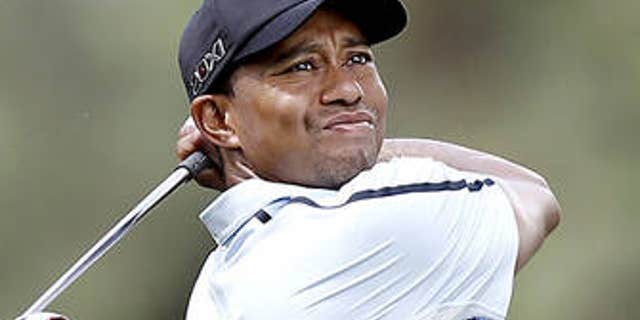 We're going to try to get through this without a dirty joke, but come on, Tiger Woods, now you're just messing with us.
The world's greatest golfer and greatest target for a fun headlines met the media Wednesday prior to the start of The Barclays, where he is the favorite because of course he is. He was fresh off the course from the pro-am portion of the tournament, which he quit after nine holes due to a stiff back and neck .
Why did you have a stiff back and neck, Tiger? He says it's due to a soft hotel mattress.
"I didn't want to push it, so I just chipped and putted," Woods said. "It was fine at home, just hotel beds."
Just hotel beds. (Bites tongue). Even our own Robert Lusetich knew this would be killing us:
Tiger blamed his back and neck pain today on "soft hotel beds". I'm sure there are no jokes being made about any of this @TheBarclaysGolf
-- Robert Lusetich (@RobertLusetich) August 21, 2013 Tiger said he does not expect the injury to be a problem during the tournament. Asked if he'd do something to change the bed situation, Tiger smiled and replied, "What do you think?"
(Bites tongue). That's just brilliant.
The media session featured another interesting tidbit when Tiger declared 2013 a good year despite once again failing to add a 15th major title to his trophy case.
"You're looking over a course of a career, and you're going to have years where you don't win major championships and years that you do," he said. "There's years where I've won one tournament and years where I've won nine. So as long as I keep winning in all those years, it's not too bad."
Adam Scott -- whose caddy, of course, is Tiger's ex-caddy -- didn't exactly agree with that assessment:
Tiger's had 5 wins this year but Adam Scott says "I'd rather have mine". "He may want mine. I mean, no. 15 is proving to be difficult."
-- Robert Lusetich (@RobertLusetich) August 21, 2013 "I'd rather have mine." (Bites tongue). Shots fired.
And then Phil Mickelson did this, which is awesome:
Isn't Phil sponsored by Barclays? But yet he's opted not to come in to media center for his @TheBarclaysGolf pre-tournament news conference
-- Robert Lusetich (@RobertLusetich) August 21, 2013 Sorry, everyone, Phil was too busy winning .
We did it! No cheap jokes.