There's only one John Force, and he's back on top form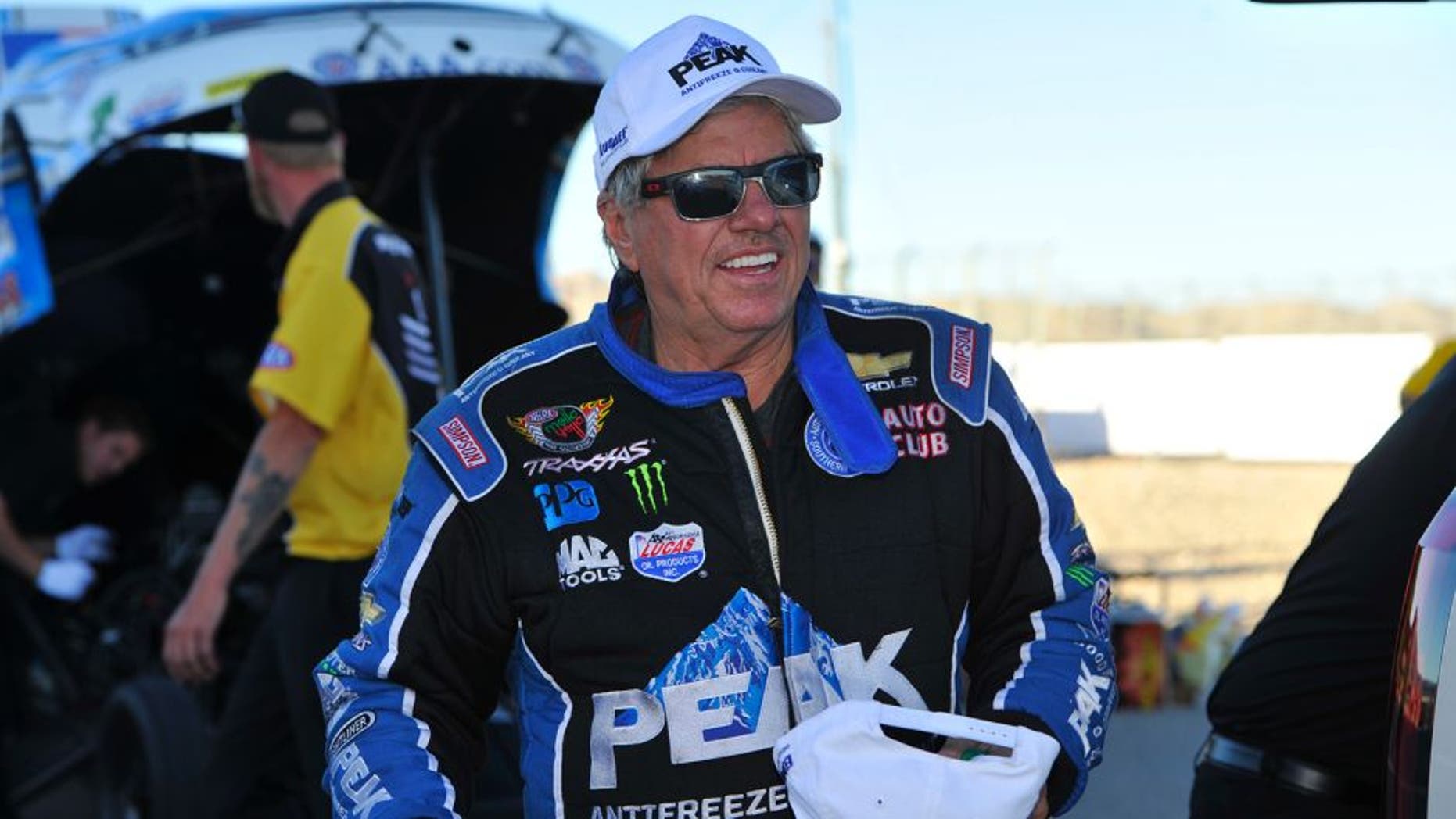 There are a lot of race-car drivers who are good ambassadors for their sports, but there's only one true evangelist, a 67-year-old self-professed gladiator who grew up in a trailer park, drove trucks for a living and now straps himself into a 10,000-horsepower, 330-mile-per-hour rocket 24 weekends a year.
His name is John Force and yes, he's every bit as crazy as you probably think he is. But crazy in a good way.
He's also the most successful racer in NHRA history, with 16 Funny Car championships and 145 race victories, two records that likely will never be broken.
Force really is one of those larger-than-life-can't-make-this-up-characters. And right now, he's found his way again after a year of struggle. In the NHRA's recent Western Swing -- three races in Denver, Northern California and Seattle -- Force won the first two, breaking a year-long winless streak.
In an exclusive interview with FOXSports.com, Force touched on a number of topics, as he most always does. He truly is a reporter's dream: The easiest job in journalism is interviewing John Force, because he's thoughtful, provocative and refreshingly free of anything resembling a filter.
Force being Force, he always has something to say. And he's almost always excited, which is a good thing.
Right now, the subject at hand is the possibility of a 17th NHRA title, which suddenly looks a lot more real with Force winning two of the last three races.
"That's what we want to look at. That's the dream," Force told FOXSports.com. "You go out there like gladiators, you fight the fight."
And sometimes you have strange problems you have to deal with in the fight. When Force switched from racing a Ford Mustang Funny Car to a Chevrolet Camaro last year, his performance initially slumped because of how he was lining up on the starting line. And the way he and his team fixed the problem was pretty remarkable.
"I was thick-headed, myself," Force said of first racing the Camaros. "I was visually lining up crooked with the car. My old Mustangs had steel bars that braced the roof and the window.
"And when Chevy built the new Camaro SS, it didn't need that structure," said Force. "But what I didn't realize is that structure and that windshield helped me align the car. Over 16 years, I did it without even realizing it. And when they took it away, they gave me this panoramic view. Man, it was like being in a drive-in movie. It was unbelievable. You could see everything. And I was just lining up crooked without even knowing it."
So the team came up with the most novel fix imaginable: The team attached a St. Christopher medal to the back of his fuel injection unit, which Force looks at through the windshield and uses as a visual reference cue to make sure he's lined up straight.
"We put a St. Christopher about as big as a silver dollar on the back of the injector and boy, it made a difference," Force said. "And since then, I've been straight down the track every run."
Nowadays, Force wears three hats: There's Force the race-car driver; the team owner of the four-car John Force Racing team that features Funny Cars for John, daughter Courtney and Robert Hight, a well as a Top Fuel dragster for daughter Brittany; and being a father to daughters who race.
In his two recent wins, John beat Courtney twice, once in the finals at Denver and the second time in the semi-finals at Sonoma Raceway in Northern California.
"I want to be able to beat her (Courtney), but then there's the dad in you that always wants your kids to prevail," said Force.
But being a driver, the desire to win is exceptionally strong.
"I hadn't won a race clear back to New England last year," said Force of the recent Western Swing. "When I went into Denver, when I finally got my hot rod straightened around, I made up my mind, I've got to blank her out. I've got to pretend its Don Prudhomme over there or Freddy Kreuger. 'That is not my daughter.' Because it makes you mental and you don't even know it."
Lest you think that John is cold for feeling that way, he's quick to point out that both Courtney and teammate Hight are ahead of him points right now.
"Seeing her lose, she really wears it," Force said of his daughter. "Robert knows how to handle it. Courtney doesn't. It makes the next week tough. We want to have dinner, she wants to keep her focus on winning. She's way ahead of me in points."
Force said he plans to race at least five more years, because it's what he knows and what he loves.
"I've tried hunting, I've tried golfing," he said. "The deal is for me, I love it. If I quit racing tomorrow, I'd be a test pilot, stay in the seat. But I'd probably go get race cars and race with my grandchildren."