The <i>Other</i> Football: U.S. Senate weighs in on the FIFA corruption scandal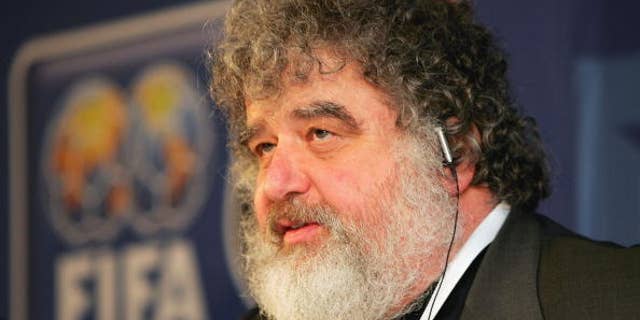 Soccer doesn't usually get much of a mention on Capitol Hill, but a Senate panel kicks off this week with a focus on the FIFA corruption scandal.
The Senate subcommittee on Consumer Protection, Product Safety, Insurance and Data Security meets on Wednesday to discuss FIFA reform and look at the role the U.S. plays in the world game.
"The recent revelations of bribery and mismanagement at FIFA should be of concern to us all." Said Kansas Republican Jerry Moran, the chairman of the subcommittee, in a statement.
"The Organization's culture of corruption is turning a blind eye to significant human rights violations and the tragic loss of lives. This hearing on the recent FIFA scandals will begin the discussion about our country's own participation in the organization, ways the United States and our allies can work to reform FIFA and how we can restore integrity to the game so many Americans and citizens of the world enjoy," he said.
The witnesses testifying will include a human rights activist who is expected to highlight Qatar's inhumane treatment of the foreign workers building stadiums for the 2022 World Cup, which has resulted in many deaths. Andrew Jennings, the investigative journalist and filmmaker credited with being the first to expose FIFA corruption, will also testify.
But American fans maybe most keen to hear from Dan Flynn, the CEO and secretary general of the United States Soccer Federation (USSF).
While it's presently understood that the FBI is not looking at anyone involved in U.S. Soccer, Flynn, under oath as the others will be, just might give us a better idea as to what his colleagues really knew about the scandal – but don't hold your breathe.
The ranking Democrat, Connecticut's Richard Blumenthal, in an interview last Friday with the New York Times said that he wanted to know how this corruption occurred.
"U.S. Soccer either knew or should have known. It's that simple, and I don't know which is worse," Blumenthal said.
The panel should first ask Flynn to explain the absence of Sunil Gulati, the president of USSF, says soccer writer, coach and co-founder of Year Zero Soccer, Jon Townsend.
"From this hearing, I'd hope to have more clarity between FIFA, USSF and the people," he told Fox News Latino. "The fact that U.S. Soccer has associates and members that are on FIFA's board and [on that of] CONCACAF, one has to wonder just how far the rabbit hole of collusion and corruption goes. I think the United States has done well in pushing the issue with FIFA, but one must wonder how much Sunil Gulati knew about much of the corruption and bribery going on."
Flynn will need to be clear on the relationship he and his colleagues had with the former top American on the FIFA executive committee, Chuck Blazer.
A recently unsealed court transcript shows that Blazer admitted that he and others had accepted bribes for two World Cups (France in 1998 and South Africa in 2010), Fox Sports reported earlier this month. The former CONCACAF general secretary also acknowledged that he took kickbacks for several COCACAF Gold Cups.
Admitting to ten counts of illegal conduct, which included racketeering conspiracy and income tax evasion, Blazer told the court that he and others were involved in receiving the bribes.
While most of the interest is likely to concentrate on the FIFA scandal, Year Zero Soccer's Jon Townsend wants senators to ask about U.S. business involvement sponsoring such events as the World Cup when the countries holding them, such as Russia and Qatar, have wretched human rights records.
"I would like to know what role U.S. corporations will play in sponsoring FIFA events despite knowing about the Qatar World Cup labor tragedies and violations of human rights? Are USSF and U.S.-based sponsors willing to back events in countries with federations that are clearly violating labor laws and human rights?"
It should be an interesting hearing, but let's just hope there's no vacuous grandstanding. If they want fans cheering for them, senators only need to ask the right questions.
Video of the week
Watch a thrilling 4-4 draw as Toronto FC's Italian striker, Sebastian Giovinco, scored a hat-trick in 9 minutes against New York City FC at Yankee Stadium on Sunday. Giovinco had an assist and missed a penalty during the match.
The 28-year-old Italian has scored 11 goals in 17 games so far this season making him the league's second top scorer behind Columbus Crew's Kei Kamara who has 12 goals.
From the wires
Toronto's Michael Bradley and Seattle's Clint Dempsey headline eight U.S. national team players on the MLS All-Star team that will face English Premier League club Tottenham on July 29.
Bradley and Dempsey will be joined by U.S. teammates Matt Besler (Sporting Kansas City), Omar Gonzalez (Los Angeles), DaMarcus Beasley (Houston), Graham Zusi (Kansas City), Benny Feilhaber (Kansas City) and Nick Rimando (Real Salt Lake).
Also, MLS commissioner Don Garber added English stars Steven Gerrard and Frank Lampard to the league's team.
Brazilian star Kaká (Orlando City) and Spanish standout David Villa (New York City FC) were also among the 10 players announced Monday as winners of fan voting on the league's website and on social media. Seattle's Obafemi Martins got the 11th spot as winner of the "More Than A Vote" tournament as fans scored more than a million goals using the forward in the FIFA 15 video game.
The Associated Press contributed to this report.