The numbers keep adding up for Jimmie Johnson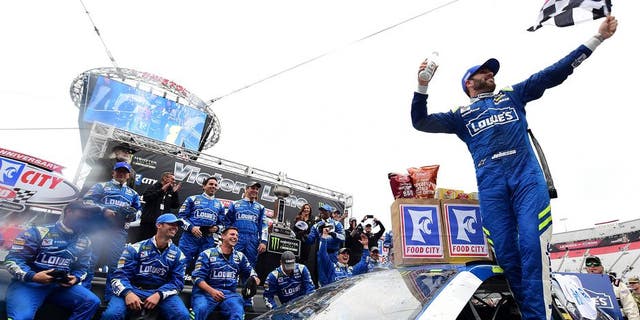 In all professional sports, champions put up big, gaudy numbers. They just do.
Tom Brady has five Super Bowl rings.
For his career, LeBron James has averaged 27.1 points per game.
Wayne Gretzky once scored 92 goals in a single season and led the National Hockey League in scoring 10 times.
In NASCAR today, the guy with the insane numbers is Jimmie Johnson, who is tied with Richard Petty and the late Dale Earnhardt with seven championships in what is now the Monster Energy NASCAR Cup Series.
Monday at Bristol Motor Speedway, a track he admits he struggles at, Johnson won his 82nd career race when he captured the Food City 500.
Johnson is just three wins away from moving to fourth in NASCARs all-time race leaders. He is seventh now, trailing three of the sports Hall of Fame drivers, Cale Yarborough, Darrell Waltrip and Bobby Allison.
Lets add some context: Johnson has as many championships as Yarborough, Waltrip and Allison combined. Combined.
Johnsons 82 victories? The active drivers who are closest to him are Kyle Busch and Matt Kenseth, who have 38 each. That means between them, the two Joe Gibbs Racing stars have 76 wins, six fewer than Johnson.
Its quite a track record Johnson has and he knows it.
It's mind-blowing. I cannot believe that we're sitting here with 82 wins, Johnson said. That is such a big number.
Which begs the question, just how big can that number expand to?
Could Johnson win 100 races and in the process pass his former Hendrick Motorsports teammate Jeff Gordon, who has 93 wins?
Could Johnson win 106 and pass the legendary David Pearson for second overall in NASCAR history behind only Richard Petty?
Johnson is skeptical, at least more so than his equally brilliant crew chief, Chad Knaus.
(Gordon) had a 13-year -- 13-win season one year, said Johnson. It just seems too far out there that I don't think that the 100 (victories) is achievable. I hope I'm wrong. I really do.
I would love to clearly do that, Johnson said. But again, I've always felt that that's just such a big number, and with as competitive as our sport is, the new twist with stage racing and what it's done to our series, that's going to be a hard number to get to.
As for Knaus, he thinks it could happen.
I think that -- yeah. Yeah. I don't see why not, said Knaus. Why not win 50 (more), right? Honestly, there's no -- from what I've seen out of this team and what I've seen out of the ability of Hendrick Motorsports and Jimmie, I don't think there's really too much that can't be reached.
Hard to argue with that logic.
And hard to stop Johnson and his team from making that number continue to grow.
And grow, and grow, and grow, and grow.